Evelyn writes:
We find ourselves asking you and your followers to help us once again..We leased a building to use for our own kennel for the dogs and cats that we rescue from our 60 yr. old heart stick kill shelter here in Brevard, NC. We hope to purchase it at a later date. We are almost at the 1,000th animal saved since December of 2009 when we became a 501c3 non profit rescue. We have been paying over $4,000 a month in monthly boarding fees at two kennels for our rescues due to lack of enough foster homes. And spending hours and hours of driving time getting them to spay/neuter clinic, vet visits, bathing, and all else needed to get them ready for transport to rescue groups in the northeast or for local adoptions. We are all volunteers and do not get paid.

I am asking for donations from the Balloon Juice community who have been so very generous in the past to help us with medical expenses for special needs animals. All can go to our website at: www.charliesangelsanimalrescue.com to see updates on kennel that we have named Safe Haven. Many great Happy Endings stories and pictures posted, info on fundraisers, adoptable animals and much more. Donations can be made there too on our secure PayPal account. All donations are tax deductible. It would be wonderful to have enough donations to be able to name one of the rooms after Balloon Juice…We need over $30,000 to complete all inside and outside renovations and purchase all necessary supplies.
We have about half of that amount already.
Also, here are two pictures of my favorite wingnut that I don't know. On my way to the big city, I pass this house that always has silly wingnut phrases up- it's kind of like an easy way to get the pulse of wingnuttia in 6 words or less. Think of it as the sign version of Red State. Some memorable signs- "#OWS SLIMEBALLS," and when ACA was being debated before SCOTUS, he had "OBAMA IS UNCONSTITUTIONAL." Earlier in the year he was all about "CUT CAP AND BALANCE."
Today's comedic stylings were "SECRET SERVICE IS HIRING":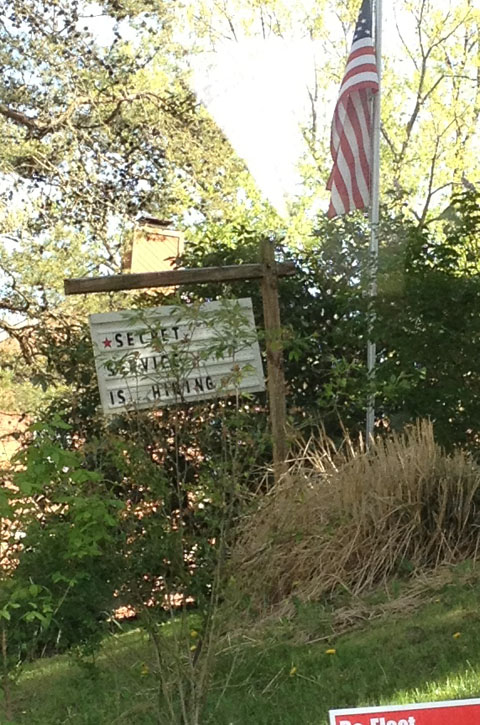 And "REQUIRE VOTER ID":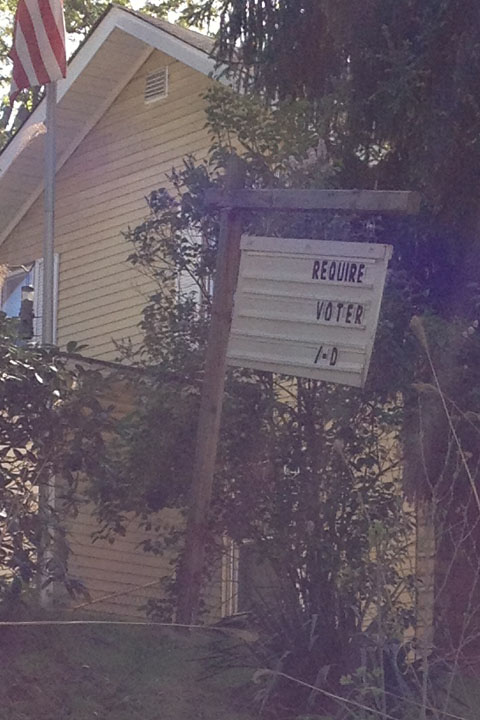 The second makes me laugh even harder than the first, because voter id is all about suppressing the minority vote, and there just are no minorities here in WV.
But I love the guy. It's like getting your daily Limbaugh recap in 6 words or less.