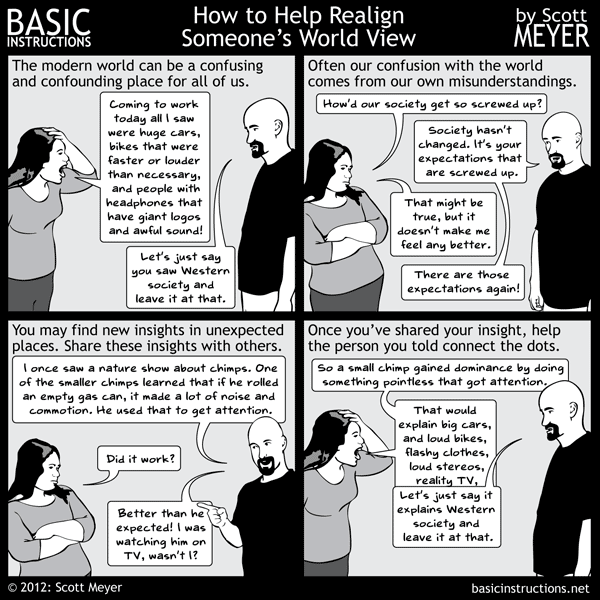 (Scott Meyer's website)
__
Paul Constant live-blogging Newt Gingrich's "campaign suspension" is too good not to share:
12:22 PM: This is basically a blowhardy version of Gingrich wagging his fist at the press and bellowing "YOU'LL ALL BE SORRY! I AM A GENIUS!" He quotes a favorable column published today that posits Gingrich's best days are ahead of him. I think he might start literally masturbating in a minute or two, because all this figurative masturbation is obviously getting him hot. Gingrich says he's going to work on energy independence. "If we do it right, we actually will not only create energy independence…we will create trillions of dollars in royalties" to help reduce the national debt. Gingrich also promises to go to college campuses to encourage Social Security privitization, as they do in Chile, and he wants to "re-emphasize the work ethic." There's no reason, Gingrich says, to give people pay for 99 weeks "for doing nothing." That's his legacy, right there.

12:27 PM: Gingrich will also focus on "what a post-Obamacare" health care system would be like. He points out that he's the "longest-serving teacher of one-and-two star generals." I have no idea what that means. "I think it's time to realize we do not have a grand strategy" in dealing with the Middle East, he says. Now he's talking about nanotechnology. "I am cheerfully going to take back up" the issue of outer space. He says Callista has pointed out "approximately 219 times," give or take 3 times, that talking about the moon base was a mistake. "This is not a trivial area," he says. Space is about the future. "I happen to think it's a better future than methamphetamine and cocaine" for our nation's children. He's turning into a cartoon mad scientist, which is adorable…
Apart from schadenfreude, what's on the agenda for this evening?