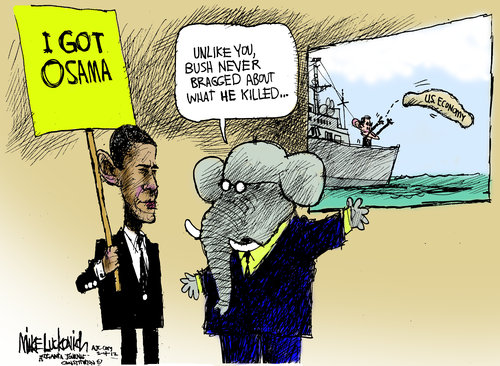 (Mike Luckovich via GoComics.com)
__
Via Dave Weigel, it's been a hard three years for the Guys Who Know A Guy:
WASHINGTON — A top Republican lobbying shop lost major business over the past few years because clients thought "Obama was going to be dictator," and only firms closely aligned with the administration would have access, Ed Rogers, the head of BGR Group, said in a deposition taken in January.

"There was a spike in people thinking that Obama was going to be dictator and to get a fair hearing, which is all you're ever really going to get or all you literally want, you had to be close to the Obama administration. We were not," Rogers testified.

"Well, was that just a perception or is that reality?" he was asked.

"It's a perception more than anything. Washington is becoming a town of what you know, not who you know," Rogers said.
My emphasis. May the power of "what you know, not who you know" remain long ascendant.
Apart from savoring other peoples' enjoyment of their just desserts, what's on the agenda for the start of the weekend?