I think we're going to be reading a lot like this:
If Barack Obama's first presidential campaign was part cultural phenomenon, part national movement, his second may look a bit more modest — like a series of well-run Senate campaigns. Facing the reality of running as a bruised incumbent in a politically divided country, Obama's advisors say they are plotting a strategy that doesn't depend on a wave of support to lift the president's chances across the country. And it won't hinge on a single theme based on ideas such as "hope" and "change" that defined the campaign and captured the zeitgeist in 2008. "We are running a series of state-specific campaigns even more so than we did in 2008, where each state's volunteers help drive what is important for them to work on in that state," campaign manager Jim Messina said.
I think this piece fits fairly well with my experience here so far, with one exception. Since 2008, I've noticed this media narrative form around Obama and the Obama 2008 campaign where any success they had was due to celebrity or a compelling narrative or some fortuitous aligning of the stars. While it's true that there was an enormous amount of national energy around that campaign in 2008, they were also successful because they worked really hard. They went block-by-block and state by state in 2008, too. The generous interpretation of the aligning of the stars narrative is that's a good story, and more fun to read (and write) than talking about house parties and compiling volunteer lists and reaching out to older long-term Democratic Party people and bringing them in, but that national narrative story, while great fun to read, misses all the hard work that went into that magical aligning of the stars in 2008.
I had an organizing event at my house last Tuesday night, the attendees were a very specific group, so I'll give you my theory on how that fits with the magical aligning of the stars narrative and my reality: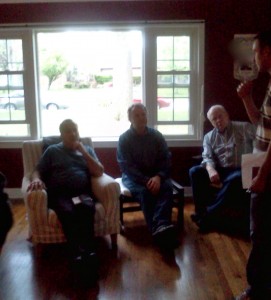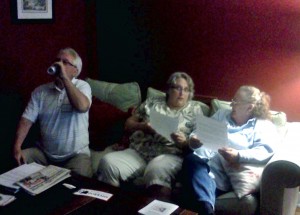 These are local Democrats who fill some "official" Party role: poll workers, precinct captains, delegates and Democrats who are also elected within their respective unions as representatives of union members. Tuesday we had both UAW and Steelworkers. Here, they'd be attending as local Democrats, but the union people are really valuable because they talk to other union members.
They speak in practical terms about "a ticket", and they start at the top of the ticket, so the Obama organizer told them what the campaign plans are nationally, in Ohio and in this county. This is important because these are not the people who do "on the ground" grunt work (they don't canvass or make phone calls anymore) but they are the people local Democrats and allies will approach for information if they're interested in getting involved at that level. This is a conservative county so a prospective volunteer or supporter would sort of sidle up to these people and ask them what's going on with the Obama campaign.
Ordinarily, I expect these things to open with what I have described here as an "airing of grievances" and I'm not being sarcastic or flippant when I say that, nor am I even commenting on whether that's a worthwhile or valuable thing to do. It just is. That's exactly what we do. We go around the room and air grievances. To be clear, these are usually complaints about a political approach, not policy. In any event, that didn't happen Tuesday. Instead the group went right to questioning the Obama organizer on specifics of the presidential campaign and then we completely ignored the organizer and discussed the rest of the Democratic ticket: Sherrod Brown (US Senate) and Angela Zimmann (US House) and John Vanover (OH legislature).
My impression was that it went very well. They're very committed to re-electing this President. Now, these are partisan Democrats, and they're active in Party politics. They were always going to support the Democratic incumbent, but they can sit at home and if asked, "support the Democrat" and then show up sometime after Labor Day and bitch about yard signs, and they're not doing that. They're in now. I expected to have to defend him and instead they were more positive on his job performance than I am.
So. On balance. If there's less aligning with the zeitgeist or magic this time around (and as I said I think that's a fair and true statement) there will be the same level of block-by-block hard work that there was in 2008, and, in my opinion anyway, more support from the Party regulars here than there was in 2008. The truth is they didn't know Obama in 2008, and they were wary of him. Obama is a lot of different things to national media. There are all kinds of (often conflicting) theories about this President, but to the people who came to my house last Tuesday he's now the familiar Democratic incumbent instead of the came-out-of-nowhere candidate who beat the Democrat they all "knew" and were comfortable with. That's different, and it's probably better, than in 2008.