I haz it.
I haven't played much in the food threads here.  Partly, it's because I didn't want to step on established traditions; partly because life is too short to write about everything.  But in the end, why not — and I just enjoyed something y'all might, so what's the harm in using up some of the Intertube's surplus bytes.
That would have been a (to me) novel twist on that Broadway standard of a supper, roast chicken.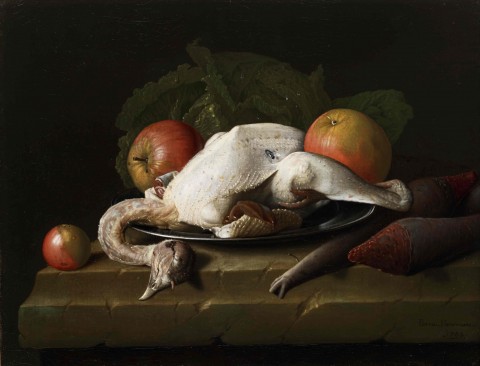 A roasted bird would be my ur-comfort food.  Some of my fondest early memories are of trying to stab my mother with a fork as she maneuvered to steal the crisp chicken skin I saved for last. My sister is still pissed at the times Mum got away with this evil ploy — and this even though our Mum is fifteen years gone beyond the reach of our griefing on this point.  It's this kind of memory that makes me think I should put away as much cash in my son's therapy fund as I do his college trove.
I've used a lot of recipes to come up with a good bird since I left my mother's home.  Over the last couple of years, I've often turned to one from Carol Field's In Nonna's Kitchen, in which you stuff the cavity of the bird with a cup or so pitted kalamata or niçoise olives, a few sprigs of parsley and a cut and squeezed half lemon, skewer the cavity shut, squeeze some lemon juice and drizzle some olive oil on the outside (lots of salt too) — and then roast upside down in 425 degree oven for about 20 minutes before flipping it over and cooking it breast-side up 'till done.  Good times.
I've also greatly enjoyed roast chicken porn.  I first encountered Gordon Hammersley's recipe — legendary in Boston — in Julia Child's In Julia's Kitchen With The Master Chefs.  Given Hammersley's cook-twice method, well enough suited to a restaurant kitchen, but not so much to my distracted condition, it's one I've left better read than done.   Then there was the time I picked up at a remainder-price the ultimate food-porn cookbook, Alain Ducasse's Flavors of France.  This is truly one you buy for the pictures; Ducasse demands your whole paycheck and more skill than I can muster to put together just about any of his dishes. But the recipe — well, if I ever choose to devote at least thirty bucks to a chicken dinner, maybe more, along with the better part of a weekend in prep, this will be the one.  And I may yet try, sometime.
But all of this is prelude to a very quick recommendation.  This week I came across Melissa Clark's video and recipe in The  New York Times for what is for me a real variation in method on roasting a bird — the assignment which is to food writing what the  10 ways to please your man/woman is to the sex guides in the women's and men's books (a  hardy perennial on which there is almost never anything new to say).   Clark proposed splaying the bird — cutting through the skin and thigh joints to get the dark meat to lie flat — and than roasting the chicken in a very hot pre-heated skillet.
My wife and I tried out the recipe last night, with just a bit of deviation — we used scallions and shallots instead of ramps, for example, and kept the temperature down to 425 degrees from her 500.  Next time we plan to add a few elements to the vegetables with which the chicken communes — fennel, perhaps, and maybe a little bit of tomato.  But I'm here to tell you that the basic idea worked great, turning out a wonderful, mellow chicken in very little time, with a trivially easy prep.
All of which is to say — as long as  you are so nice as to ask — then, yes, I happily  endorse this path to a good night's supper.
So, with that, I guess you could think of this as a Balloon Juice comfort food open thread.
Image:  Peter Jakob Horemans, Still life with plucked chicken, apple and carrot,  1768