I went to a field hearing on voting rights yesterday in Cleveland. The issue in Ohio right now is early voting. Here's the background. Republicans passed a law with additional restrictions and barriers to voting in 2011. Ohio already has a voter ID law, these are brand new (and quite creative) barriers. Democrats, unions, and civil rights groups collected enough signatures to put that law up to a "citizen veto" which has the effect of putting the law on hold in Ohio. Success! But wait: Republicans now are attempting to repeal their own law, making the ballet issue we worked so hard on null and void, and replace it with another law restricting voter access to the polls. So that's where we are.
This is immediately prior to hearing, the two gentlemen seated at the center of this photo are the GOP witnesses and I was sitting where a juror would sit when I took the picture: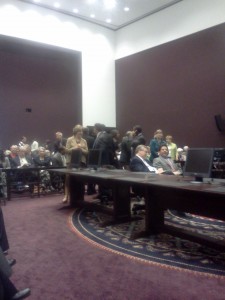 Senators Durbin and Brown held the hearing, and I listened to five witnesses, three on the access side and two on the restrictions side. Both Democrats and Republicans are given an opportunity to provide written testimony and witnesses. Republicans sent only two witnesses for their side.
The AA ministers and local civil rights leaders were seated in the jury box tiered above and beside the counsel tables where the witnesses sat. That pleased me to no end, because advocates for restricting voter access are so rarely on defense and they're never, ever faced with the actual people these laws harm. I'd wager it's a lot easier to promote arbitrary and ridiculous voting restrictions from the plush confines and safe distance of the Fox News studio or the editorial pages of the Wall Street Journal than it is selling that nonsense while local community leaders in Cleveland are sitting 12 feet away, looking at you. Explain to that 70 year old minister up there why you believe the members of his church are committing felony voter fraud on the Sunday before an election without a shred of proof. You go ahead. I'll watch.
The Honorable Marcia L. Fudge
United States Representative
State of Ohio

Carrie L. Davis
Executive Director
League of Women Voters of Ohio/Education Fund
Columbus, OH

Gregory T. Moore
Campaign Director
Fair Elections Ohio
Cleveland, OH

Daniel Tokaji
Professor of Law
The Ohio State University, Moritz College of Law
Columbus, OH
And here's their two:
David Arrendondo
Director of International Student Services
Lorain County Community College

Dale Fellows
Republican State Central Committeeman
Lake County Republican Party, Executive Committee Member
Mr. Arrendondo went first on their side, and I smiled when he started with "voting is a privilege" because that's crazy making to voting rights advocates. Voting is a right, not a privilege, and invoking the now-standard misleading and inaccurate conservative "privilege" frame takes those of us on the access side to full adrenaline red alert. The law professor sat straight up in his chair when he heard "privilege" probably just dying to rebut on that. I sympathize. Anyway. My feeling on that first GOP witness was that he's unreachable. No facts on voting will ever get through. He made a passionate case for Sunday voting (which is what they do in Mexico, he said) until Durbin reminded him that he was there to oppose Sunday voting in the US, because that's the issue: early voting on Sunday. He's FOR Sunday voting in Mexico and AGAINST Sunday voting in the US. Okay. Next witness.
Dale Fellows, the second Republican, was different. He started out with what I thought was a solid attempt to defend changing the law on early voting, but as the hearing went on, and he responded to the questions of Durbin and Brown he seemed less and less interested in defending the broader national Republican position on voting rights. He said there were parts of the new law that he didn't agree with, and he looked toward the jury box when he stated his own personal commitment to voting rights. I'm wondering if his approach was different for two reasons: first, he was once on a county board of elections, so has a real working knowledge of voting process on the ground, and, second, it is harder to accuse people of fraud when they are sitting in front of you.
On the first, the practical working knowledge part, county boards of election members are NOT usually rabid partisans, in my experience. The joke is that the the best result for a county board of elections member is LANDSLIDE! (for either side) because that means there's no contentious dispute and recount. But I also wonder if he seemed more sympathetic to our position because sitting in a room in Cleveland faced with ordinary local people who are on the other side really is different than promoting the voter fraud stuff seated around a pundit table on television or writing some editorial page screed about "voter fraud". The people seated in the jury box are real people, they're respected local leaders in Cleveland, and they are dead serious about what they believe is an attempt by Republicans to disenfranchise their communities. It's personal.