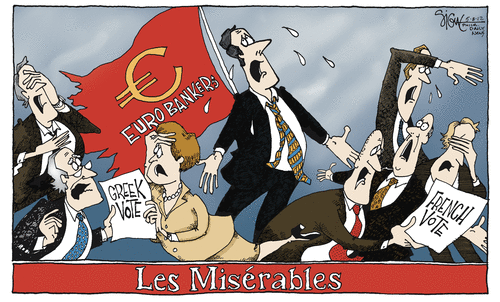 (Signe Wilkinson via GoComics.com)
__
Before anybody gets too teary-eyed over "losing" Statesmandick Lugar (what, that's not his legal first name?), let us ponder the words of actual Indiana resident Doghouse Riley:
NOTHING is ever going to change my perception of Dick Lugar. As long as I live he's the man who–five years after the Civil Rights Act of 1964, and four years after the Voting Rights Act–spearheaded his party's (successful) efforts to re-disenfranchise African-American voters in Indianapolis, by moving the city's boundaries to accommodate White Flight and Republican majorities.

Hey, Robert Byrd apologized for his Klan membership. If Lugar's said anything to the black community in Indianapolis in forty years I don't know what it might've been. You can shove all that intervening "statesman" crap into a tricorn hat.

Lugar turned his status as Richard Nixon's favorite mayor into a losing Senatorial campaign in 1974, and a landslide victory in 1976. Which, to paraphrase the Republican country chairman in this Roll Call piece, was the last time we saw Dick Lugar in Indiana. It is, without question, the last time he lived here. Or owned a home here. Or voted from a legitimate address…

If he's gone he's got himself–and his staff–to blame; I found this impossible as little as six months ago, but Lugar used whatever masses of money he'd accumulated by not being challenged since Jimmy Carter was president to go negative early, loudly, and incessantly. The bright boys are talking about what a mistake that was–now they're talking about it–but none of 'em was asking why Lugar didn't come out and defend his vaunted "moderation" in the first place. Because, y'know, everybody knows screaming "Repeal Obamacare" is a certified winner. Unless you're talking to the general public…
And furthermore:
I may have mentioned, once or twice, but it bears repeating: the Lugar campaign is the gosh-darned stupidest thing I ever saw, and I live in Indiana. The longest-serving Senator in Indiana history is now in danger of losing a Republican primary to a Teabagger nutjob two years after junior Senator Dan "Carpetbagger" Coats managed to defeat one two weeks after moving back to Indiana. He's losing despite the "support" of "wildly popular" Indiana Governor Mitch "RV" Daniels. He's losing despite Mourdock's clear and wide slime trail in Indiana Republican politics.And Lord knows I'm no expert, but I think saying "I need your help" to Democrats and independents at the eleventh hour might have been a little more effective if you hadn't just spent the past four months, and untold thousands, on campaign ads that spit out "Obama" the way you might say "Gonorrhea" to the person you just learned had infected you…
Senator Lugar did some good work negotiating nuclear draw-downs after the Soviet Union imploded, but he was always a social conservative and a reliable Republican vote no matter how un-statesmanlike the Republican tactics at issue. If only because he's eighty years old, I trust the Obama Administration to offer him no position beyond the purely ceremonial, despite the siren song of Centrism Triumphant. The frothing Teabagger now standing for Lugar's seat has six months to further embarass the Republican Party in front of the sane Indiana voters (all 37 of them), and hopefully to depress straight-R-ticket voters come November.
What other Eeyore-ific delights are on the agenda tonight?