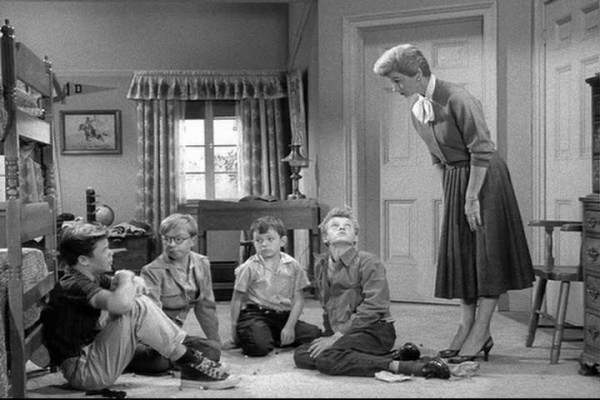 Mrs. Mitt seems like a nice enough person — she comes across as exponentially more human than her husband. Admittedly, that's a low bar since anyone who seemed less human would be relegated to the cargo hold of a commercial airliner without a notarized document from an anthropologist.
But Mrs. Mitt seems as pleasant as a clueless rich lady could possibly be when she's trying to sell you an animatronic plutocrat with an anti-99%, anti-woman and anti-gay agenda. Sort of like a defanged Lynne Cheney. So I don't mean to pick on her. But this passage of a Mothers' Day op-ed she penned for USA Today struck me as odd:
People often ask me what it was like to raise five boys. I won't sugarcoat it. There were times I wanted to tear my hair out. I can remember visiting my friends' houses, seeing their daughters' manners, the way they helped with the chores. Then I would return home to my boys, hoping only that my house was still intact.
Sweet al dente Flying Spaghetti Monster, is she actually suggesting that daughters are universally better mannered and tidier than boys? I'd disabuse her of that notion by posting a picture of my teenage daughter's room right now, but that would be invading the kid's privacy. Trust me, I'd stack that girl's smart mouth and capacity for generating household-roiling mayhem against all five Little Lord Fontleromneys.
But that's not all that bugs me about the piece. It illustrates something more broad and disturbing — a weird trapped-in-amber vibe to both Romneys, something that can't really be explained away as a generational thing. They are about the same age as my parents, and though my parents' political views differ significantly from the Romneys' (my dad is way to their right and my mom is way to their left — divorced ages ago, obviously!), you can tell my parents experienced the decades that followed 1959 and took away certain lessons, for good or ill.
The Romneys, not so much. To paraphrase a line from "Field of Dreams," it seems like they had six helpings of the 1950s and landed in the second decade of the 21st century pretty much unscathed. It will be a weird rolling-back in more ways than one if, FSM forbid, Mittens becomes president.
[X-posted at
Rumproast
]