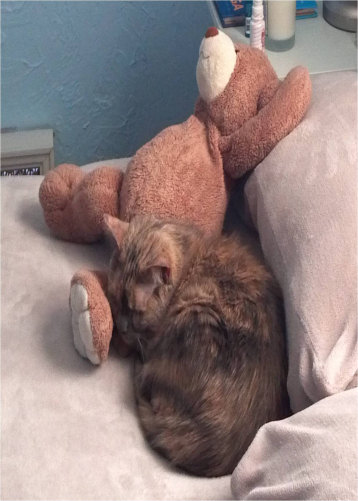 From commentor Tom M:
This is Cheeto. She rescued herself in November of 2010. My wife and I were at the Cleveland Zoo on a Sunday afternoon. As we walked up to the Cheetah cage, we noticed a commotion. The two Cheetahs were very agitated. They kept running up to the edge of the cage where a group of people were standing. As we got closer, we noticed a pathetic starving cat standing in front of the cage. She could care less about the Cheetahs' agitation (frankly, she might have enjoyed it). She walked right up to us and let us pet her. We knew we couldn't leave her there so we picked her up and carried her out of the zoo. Our plan was that we would take her to the shelter, since we already had one cat (Abby) and a dog (Simon), both are rescues. But one and a half years later, she is still with us. She's no longer pathetic and starving, if anything she's a touch overweight.

My wife just started a new job in Boston and I'm moving there as soon as I find a job. It was impossible for us to find an affordable place to live that would allow us to have three pets (especially any place which would take an 80 pound dog). So sadly, that means that we have to find a new home for Cheeto.

Cheeto is a great cat. She's loving, affectionate and a bit goofy. She's not afraid of anything (unlike our other cat who's afraid of everything). Her and the other cat do not get along very well, so Cheeto might be better as a the only cat. However, she's great with our dog. They're not friends, but they peacefully coexist.

She does have some issues with her teeth. We had her teeth cleaned one year ago and they had to pull some. She's due for a cleaning pretty soon (which we plan to take care of).

If anyone is interested, I'd be willing to drive her anywhere within a few hours of Cleveland or anywhere along the main route from Cleveland to Boston. There's a good chance I'll be driving from Cleveland to Boston the week before Memorial day.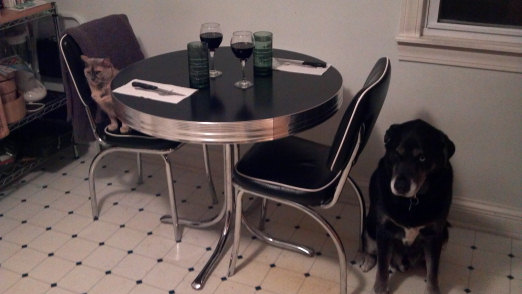 Anyone who knows of a possible home for Cheeto but doesn't want to post personal information here, email me at AnneLaurie @ verizon.net (click on my name, to the right) and I'll forward your message to Tom M.