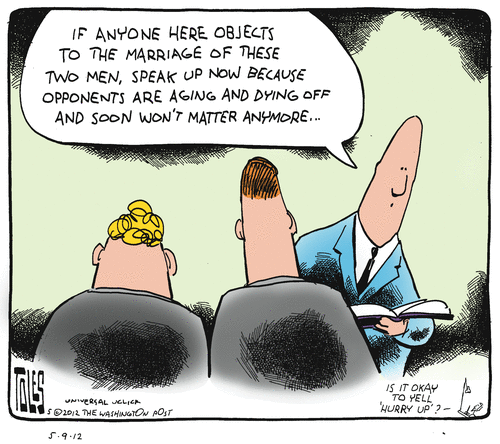 (Tom Toles via GoComics.com)
__
According to the Spousal Unit "paalegg" is Norwegian for "anything that can go in a sandwich". Here's a collection of bite-sized random items that tickled my palate.
The RonPaulistas continue to harass the GOP primary gatekeepers, and Mr. Pierce at Esquire has his suspicions as to why:
I am gradually coming to the conclusion that Crazy Uncle Liberty (!) is doing all this finagling with delegates and stringing out the campaign until he gets what he wants, which is some sort of validation for his son, Senator Aqua Buddha of Kentucky, within the party that might make the kid a legitimate kind of presidential candidate in 2016 and going forward, so that The Revolution (!) can continue until our grandchildren are being bored by the whole business…
… which led to my personal choice for Comment of the Day, All-Internetz Edition:
I will bet one giant genuflection on the altar of the gold standard that they have a gun pointed at Obama in this advertisement because the noose depicted in an earlier draft looked too regional.
Marin Cogan at GQ's Death Race 2012 blog tracks down the reporter behind the WaPo Bullygate story:
Marin Cogan: And what about the suggestion—it was made in the Fox interview with Romney but now it's being discussed on Twitter, that this was some sort of oppo story handed to you by another campaign?

Jason Horowitz: I can just say that I can fully deny that. This is a story that in no way was generated by opposition research. This is an entirely independently reported story, with no help from any politically affiliated partisan side. This was all just talking to people who went to school with him.

Marin Cogan: Last question—Did Joe Biden force your hand, too, In terms of the timing?

Jason Horowitz: [Laughs] If you look at the last story I wrote I think was a Joe Biden story. Technically Joe Biden has again stepped in first. Maybe Joe Biden is behind everything.
Felix Salmon blames the latest JPMorgan fiasco on some guy named Bruno Iksil, "the London Whale", and draws a dispiriting conclusion:
… Of course, this loss only goes to show how weak the Volcker Rule is: Dimon is adamant, and probably correct, in saying that Iksil's bets were Volcker-compliant, despite the fact that they clearly violate the spirit of the rule. Now that we've entered election season, Congress isn't going to step in to tighten things up — but maybe the SEC will pay more attention to Occupy's letter, now. JP Morgan more or less invented risk management. If they can't do it, no bank can. And no sensible regulator can ever trust the banks to self-regulate.
For those who proclaim themselves already bored beyond caring with this year's election, Ed Kilgore at the Washington Monthly shares a vision of the future:
There was good news and bad news for Sarah Palin in the self-consciously ridiculous Public Policy Polling survey of Iowans for their preferences in the 2016 presidential contest (I mean, Caucus campaigning starts pretty damn early, but not this early!). On the one hand, she has an impressive 70/17 favorable/unfavorable rating among Iowa Republicans. On the other hand, only 10% of them chose her as their 2016 presidential favorite, tied for fourth with Jeb Bush…

Joe Coscarelli at NYMag's Daily Intel reports that the ever-proactive Team Romney has found a new voter demographic to piss off:
Earlier this year, Mitt Romney promised Morality in Media, the "leading national organization opposing pornography," that he supports "strict enforcement of our nation's obscenity laws," thereby alienating an extremely vocal, protective sect of Internet users everywhere. On Reddit in particular, the social news nerd haven where porn is as sacred as Ron Paul, the men (an educated assumption) are mobilizing with a plan to "swift-boner" Romney. Noting the site's "activism in the past against things that would censor the internet in one way or another," a user wrote yesterday to ask if Redditors would be interested in buying up ads on porn sites to alert potential voters to Romney's anti-porn position. They are very interested (in making penis jokes)….
And finally, via Paul Constant, a [probably NSFW] video of… the surprise breakout star at this year's GOP convention in Tampa!
Hell, if Shiri can successfully convey "three different human emotions", that's at least one-and-a-half more than the Romneybot 2012…