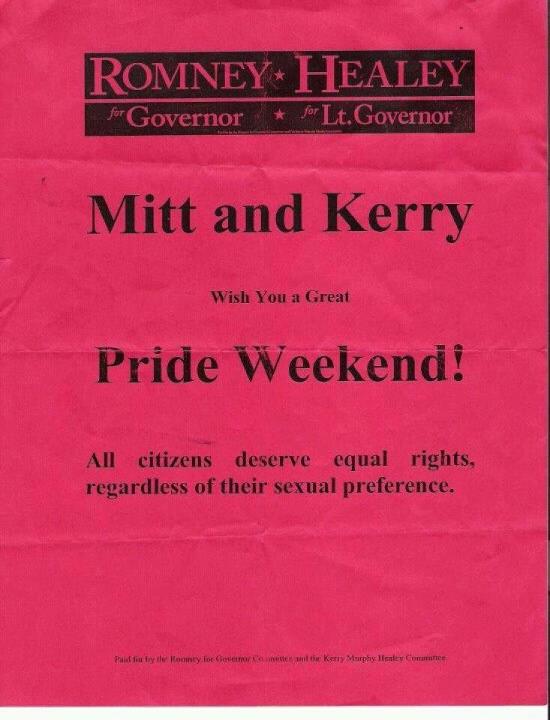 __
It's all over the internetz, but I found this image at Charlie Pierce's place. As Mr. Pierce very fairly points out, Eric "Etch-A-Sketch" Fehrnstrom has fiercely repudiated the provenance of this flyer. (And Fehrnstrom is an honorable man; so are they all, all honorable men…)
Paul Constant points out that Kerry Healey is still defending Willard Romney's back, ineptly. Constant is too nice to point out that Healey is stuck with this Sisyphean task because she's Michael Steele in a dress (lost her post-Willard gubernatorial run by 21 points, got curb-stomped by Scott "Cosmo Boy" Brown when she attempted to steal 'Ted Kennedy's seat')– unemployable outside the Wingnut Welfare circuit.
Boston Pride 2012 — it runs ten days, because we are just that fabulous — doesn't start until June 1st. It's reasonable to assume that Candidate Romney will find ways to be very, very far away from the Hub of the Universe at that season, but I can't wait to see what the creative Pride Paraders come up with by then…
Speaking of timely scheduling, tomorrow Mr. Romney is due to deliver the commencement address at Jerry Falwell's college. As Paul Constant points out, "Neither Mitt Romney Nor the Boy He Bullied Would Be Allowed at Liberty University" (no longhairs, and no Mormons, either):
But they're making an exception for this cultist, because Liberty University officials are citing a passage from Exodus ("And Moses chose able men out of all Israel, and made them heads over the people, rulers of thousands, rulers of hundreds, rulers of fifties, and rulers of tens.") to suggest that God wants them to vote for an "able" Mormon, rather than a "disabled" Muslim socialist. That's a real stretch, even for Bible-scrying.
"Bible-scrying": there's a phrase that needs to be added to the general vocabulary!