Ponder Scott Walker as he explains his "divide and conquer" gaffe.*  It is, he claims, unpossible that he was telling the truth to his donor about pursuing a union-busting "right to work" policy for Wisconsin.  That would have meant he had been lying to private sector unions — and that couldn't be.  But wouldn't that imply he'd been lying to his billionaire donor?
Well — let's go to the source:
"Most politicians say things and don't follow up on them," Walker said.
There you have it, folks!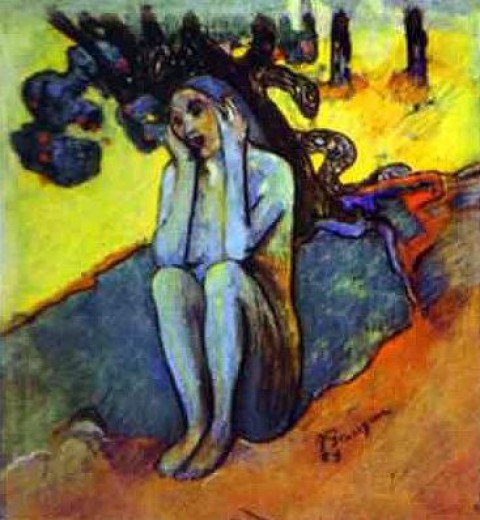 To be fair (ish) Walker did go on to say:
 "What I've said, the commitment I've made and what I've said repeatedly in the last 13, 14 months, is that private-sector unions are my partners in economic development. I've said repeatedly now, since that time, that I don't have an interest in pursuing right-to-work.
Aren't you reassured?  Honest Scott Walker will keep his promises — except the ones he won't.  If you had to lay cash money down on which commitments he'll "honor" (the word itself shudders at the implication that it and Scotty might have an acquaintance), which would it be?  The billionaire or the working stiff.
As the French would say (but they would, wouldn't they?), the question answers itself.
*Recall that the canonical definition of a gaffe is when a politician inadvertently admits a truth.
Image:  Paul Gaugin, Eve — Don't Listen to the Liar,  1889