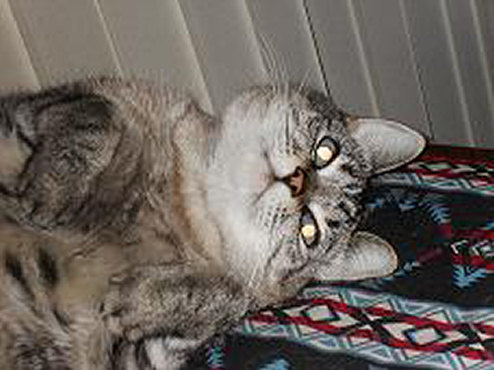 From commentor IrishGirrrl:
I have fallen on hard times and am having to move from a very large house to a tiny apartment. I cannot take my cat, Dusty with me and I feel absolutely horrible about it. I have been looking for someone to adopt her for weeks but have had no luck. I am moving next Sunday and am running out of time…

Dusty is a spayed and declawed approximately 12 year old cat who I originally adopted from The Humane Society about 6 years ago. She has had some dental problems and has had teeth removed but she can still eat dry food just fine. She has a touch of arthritis in her hips but overall is pretty healthy. She is not up on her shots since I have been lucky to feed myself and my kids, much less afford vet bills. I would be happy to give whoever adopts her some money towards initial vet bills. I probably should have taken her back to the Humane Society when I could no longer afford the vet, but I was so worried that no one would adopt her and they would euthanize her.

Dusty is a very sweet and vocal cat. Her hair is medium length, gray, white and brown striped, and she appears to be a mixture of breeds with some oriental because she has blue eyes and vocalizes so much. She has been known to say "Mama" when looking for me. While extremely affectionate she is not fond of small children as they are too rough for her tastes. She is okay around other cats but tends to want to be dominate kitty with respect to male cats. Female kitties she basically ignores or occasionally communes with, but she is all about her human. I don't know how she might behave around dogs. She would make an awesome companion for a couple or an older person. She will love you silly. It breaks my heart to have to give her away but she deserves so much better than she is getting now and would get if taken back to the Humane Society.

I am willing to drive as far south as Tucson or as far north as Flagstaff to deliver her to a new home.
If anybody can offer help — perhaps a local no-kill group that might have a space for Dusty? — and you don't want to put personal information here, send me an email at AnneLaurie @ verizon.net (click on my name to the right).