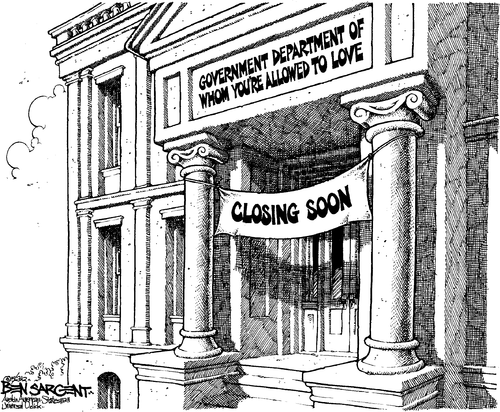 (Ben Sargent via GoComics.com)
While we're on the topic of religion and its place in the public realm, don't miss Mr. Charles P. Pierce speaking for us People of Faith:
Over the weekend, Willard Romney, a most preposterous man, gave one of the most preposterous speeches ever delivered by an American politician. The presumptive nominee of the Republican party went down to Liberty University, the late Jerry Falwell's old diploma mill, to deliver the commencement address, because that is what presumptive Republican nominees do…

[T]he speech was seen as Romney's chance to "cement his relations" with a vital part of his constituency, albeit one that believes he regularly cuts up goats on a rock in his magic underwear in order to pay homage to St. Jesus of Polynesia. The quite obvious ridiculousness of the whole moment was the only story worth covering. Romney went before an audience and argued that, because they share common opinions on various political issues of the moment — in particular those involving sexy sexytime and the people to whom the Deity has granted permission to have it — their "faith" will bind them together. In other words, speaking to the graduates of a institution of Christian theocracy, Mitt Romney told them that, because they're all against marriage equality, they're all brothers in the spirit. I can't think of anything any politician ever has said that has denigrated the allegedly exalted status of "faith" more than that. It is fashioning religion into a form of ward-heeling….

I think that Mr. James Madison, because he was a fk of a lot smarter than all of us are, was dead right when he pointed out that involving your religion in politics, and your politics in religion, works only to unreasonably secularize religious belief and unreasonably sanctify profane secular power…

Self-governing people have to be wary of religious establishments that ally themselves to attain secular political goals, not merely because they do themselves damage, but also because they threaten the very safeguards that have allowed them to flourish in the first place. Willard Romney was a preposterous man even by his own standards over the weekend. He was a special pleader, asking a group of post-adolescents to ignore the fact that they believe different things about what he calls "something far greater than ourselves" because he wants them to vote for him so he can eliminate the Affordable Care Act and eviscerate some tepid Wall Street reforms.
Apart from Republicans making themselves ridiculous (but I repeat myself), what's on the agenda for the evening?