This pooped into my inbox a little while ago: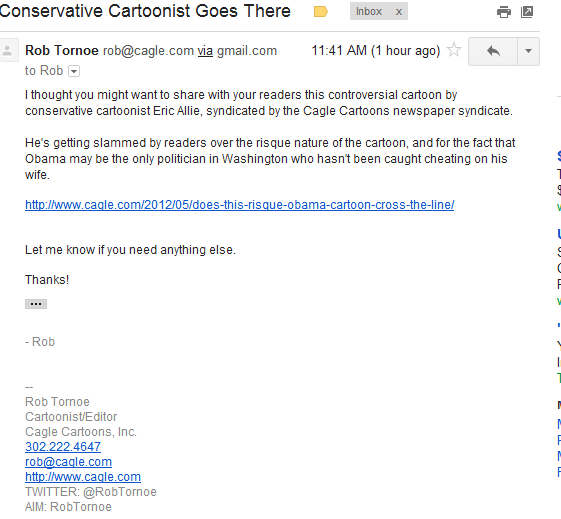 Eric Allie, who's an unfunny and not very talented cartoonist, must need some hits, because he drew a cartoon titled "Deep Throat II", which shows Obama (who's beyond Allie's limited ability to caricature, so he's mainly recognizable because his skin is brown) sitting in the Oval Office. Another misshapen human-like caricature asks "I thought the Washington Post was here to discuss the campaign" and a bubble from under the desk says "Down here".
I think I'd have to work to push out something this old and tired: a Watergate reference, the Washington Post as the exemplar of liberal media, and a Lewinski/blowjob joke. If I had to make my living as a cartoonist and this was the best I could do, I'd be sharpening my razor and drawing a hot bath.
Update: I thought this was Daryl Cagle's work initially but I fixed the post to give credit/blame to the right asshole. BTW, Cagle is the cartoonist for the liberal MSNBC and syndicates Allie's work.