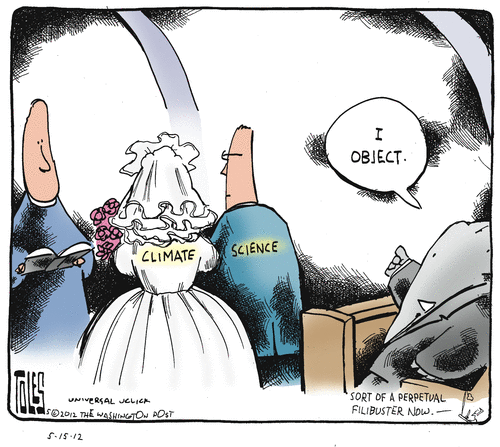 (Tom Toles via GoComics.com)
__
Dave Weigel at Slate brings news from the Heartland (Institute):
On Friday, the libertarian, Chicago-based Heartland Institute made a routine-sounding announcement. It would "spin off its insurance research project effective May 31." The D.C.-based Center on Finance, Insurance, and Real Estate would break off; its director, Eli Lehrer, would found some new project…

Today, the spin-off — dubbed the R Street Institute — sent out a statement from its spokesman, R.J. Lehmann. Most of it was boilerplate about how the team of six Heartland refugees would keep working on "much the same portfolio of issues we already have been." Oh, one caveat:

There is one thing that will certainly change from ending our association with Heartland: R Street will not promote climate change skepticism.

The backstory is explained here by Lucia Graves. Heartland has been a locus of climate change skepticism for some time. It had been shedding some corporate support since debuting a billboard with a picture of the Unabomber and the slogan "I still believe in global warming. Do you?" Next week, Heartland will host its 7th climate change conference — typically, a haven for skeptics.

"Our project has never been engaged in climate science, per se, and there are no plans to begin working on that issue now," said Lehmann. "However, we do work on catastrophe risk issues, and to the extent that climate risk is relevant to that topic, our intent is to take scientific consensus seriously, in advocating for public policy issues that relate to climate risk."

An example? "Global warming is relevant to the risk of catastrophic floods," said Lehmann. "It is relevant to crop losses from drought, and we see scientific consensus as suggesting those concerns must be taken seriously as we evaluate federal subsidies for flood insurance and crop insurance."
[My emphases.] Shorter R Street: Look, denying reality was fine as long as our funders were paying us more than we'd lose when the digestive byproduct hit the fan. But we can't afford to base
insurance calculations
on wishful thinking — we're operating as libertarians, for pete's sake!
Apart from noting the gradual trickle towards the final stage of Gandhi's Aphorism (First they ignore you; then they mock you; eventually they fight you; then you win), what's on the agenda for the evening?