Soooo…. I was looking at Lily today, as I often do, sitting there making eye contact as she tries to give me a little face wash, and I thought to myself, I've only had her going on three years, and the vet said she was 4-5 when I got her, so that should make her 7-8 years old by now. But for some reason, she seems to be graying, and I had the horrible fear that maybe she was 10-11 when I got her and she is older than I think, and I will only have her in my life for a couple more years. What will I do? How will I go on? How will I sleep, since I can't sleep unless I feel her next to my torso in between my right arm? Oh, good grief. What if Rosie is only 6 and Lily is 12? I won't be able to handle that. So here is a picture of her the day I got her: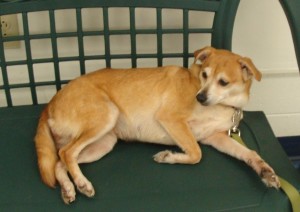 Now here is a pic from two minutes ago: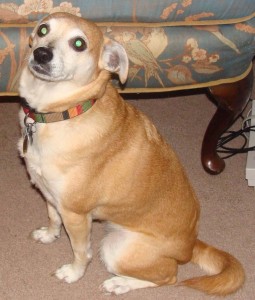 Her face sure looks a lot whiter and grayer to me, doesn't it?
And just so we are clear, that's right, folks. You are watching this happen live. I am no longer content to limit my hypochondriacal behavior to myself (I coughed- LUNG CANCER. I have a spot of the trots- COLON CANCER. I have a sore throat- THROAT CANCER.). Nope. No sirree. We're branching out and including the pets.
But she does look grayer, doesn't she?
Oh, and for those of you wondering about Tunch, here he is inspecting a computer I was working on earlier: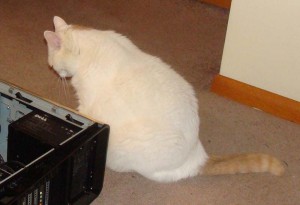 I need to be on valium or something.