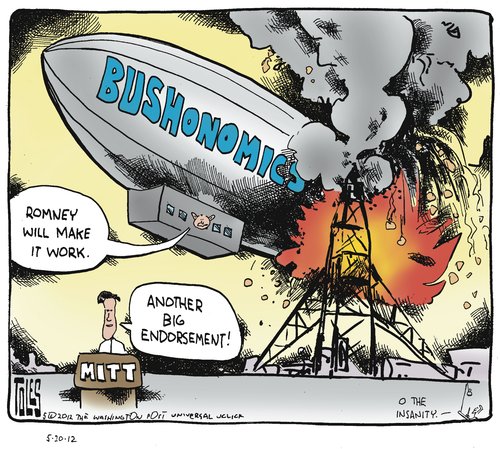 (Tom Toles via GoComics.com)
From the Boston Globe's Political Intelligence blog:
Embracing perhaps the most polarizing figure in the Bush administration, Mitt Romney will hold a fund-raiser at the Jackson Hole, Wyo. home of former Vice President Dick Cheney this summer.

The Romney campaign confirmed Monday that it sent a save-the-date e-mail to supporters advertising the "memorable event" in a "beautiful summer destination" on July 12…

Romney has praised what he characterizes as the business-friendly climate of the Bush years. Republican National Committee spokeswoman Alexandra Franceschi said last month that the GOP's 2012 economic platform would be virtually identical to Bush's, "just updated."

And Romney has expressed a favorable view of Cheney, in particular, saying the former vice president possesses the qualities he will look for in a running mate.

"Whether you agree or disagree with him, this is a man of wisdom and judgment, and he could have been president of the United States," Romney said of Cheney at a campaign event in September. "That's the kind of person I'd like to have — a person of wisdom and judgment."
A person of wisdom and judgement. With bait like that, I've gotta assume our friends in Homeland Security are just hoping to honeytrap another handful of wishful anarchists for a special media-friendly extra-patriotic Independence Day "bust". Darth Cheney and the RomneyTerminator, together at last… that's a scarier scenario than any of the big-budget Hollywood releases scheduled for this summer.