On the left is one of my cute little Australorp chicks at one week old, and on the right is that same chick eight weeks later: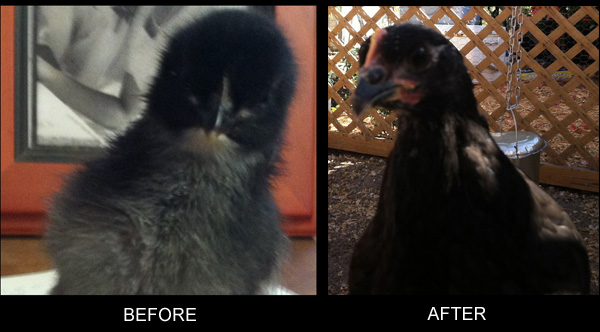 Every morning I ask her the same question: Where are my goddamned eggs?!?
In other news, the Vetting the Bed* process continues apace at Big Dead, where cub reporter Joel B. Pollak reckons President Obama must have entered Columbia as an Affirmative Action student with SAT scores even lower than the famously dumb George W. Bush.
His evidence? A 1981 newspaper article about the average score of the Columbia transfer class:
Breitbart News has learned that the transfer class that entered Columbia College in the fall of 1981 with Obama was one of the worst in recent memory, according to Columbia officials at the time…If Obama's SAT scores were near the average of the transfer students entering Columbia in the fall of 1981, he would have scored significantly lower than George W. Bush…
Yeah, and if my granny had wheels, she'd be a go-cart. These are painfully stupid people.
*H/T: Different Church Lady