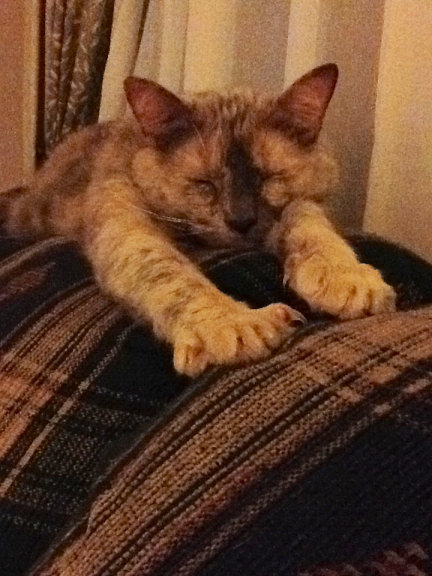 __
From commentor Wendy, an update on Cheeto in Cleveland:
Tom and I hooked up soon after you posted his story and Cheeto is already part of the family. She really is a wonderful cat, loves people (tolerates dogs) and can't seem to get enough rubs and petting. It certainly didn't take her long to decide we were ok and she seems relaxed and is enjoying herself. It's one of those strange things that although she's been here for a short time it feels like much longer. She just slide right in with not so much as a hiccup. Thanks for including these types of posts, sometimes it does lead to happy endings!
And a quick note from Irishgrrl in Phoenix:
I just wanted to thank you for helping me find a new home for Dusty. I dropped her off with RomeAgain and ThymeZone this morning and she seemed to adjust well. You helped to save her life and to keep my heart from breaking.
My thanks as well to Wendy and her family, RomeAgain & ThymeZone, and the rest of the pet-friendly BJ commentariat. Nice to post some news that doesn't make me want to hurl a brick!