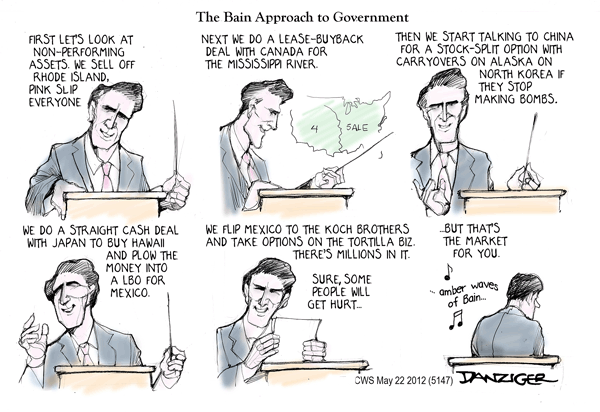 (Jeff Danziger's website)
__
Praise Goddess, Professor Krugman is reliably shrill:
As the debate moves – appropriately! – to a discussion of Romney's career at Bain, one thing I've noticed is that everyone on the right, and a fair number of people who should know better, basically believes that Gordon Gekko was right. Before the Gekkos came along, they assert, American business was sluggish, unproductive, and uncompetitive. Then came the LBOs and all that, and our economic energy was unleashed.

As I said, everyone on the right knows that this happened. Needless to say, none of it is at all true…
Read the whole thing, with graphs, at the link.
What's on the agenda for the Day-Before-the-Day-Before-the-Unofficial-Start-of-American-Summer?