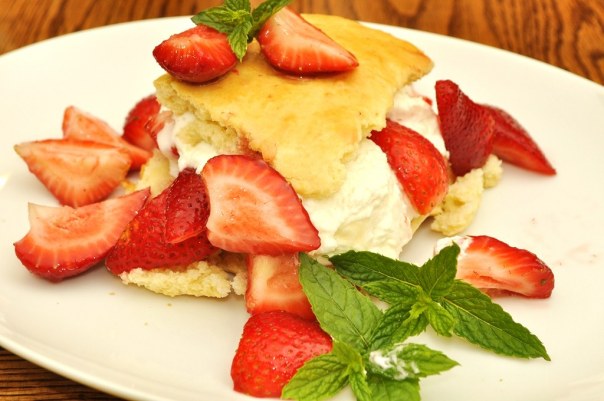 (Photo by JeffreyW)
From our Food Goddess, TaMara:
Strawberries won out as our ingredient this week. They looked too good to pass up when I was shopping. And just when did cream get so expensive? I practically had to take out a loan to get a quart. I do love this time of year as the farmer's market and grocery stores fill up with local fresh vegetables and fruits. With fresh fruit, my first choice it to just eat them. I mean why spoil a perfect fruit? But then it's time to have some fun with them – cakes, ice cream, cobblers. Tonight's recipes are all about the strawberries.

Strawberry Bread (recipe found here) became a recipe when I did what I always seem to do during fresh strawberry season, buy too many strawberries. Before I can finish them, they are overripe. The bread is much like banana bread, it does best with very overripe fruit and wow, does it pack a powerful strawberry flavor. And it's not too sweet because I don't like to overwhelm the tart goodness of the strawberries.

Tonight's other treat is a variation on the recipe JeffreyW used in the picture above. I made it yesterday and thought it was the best shortcake I've ever made – really light and fluffy.

I'll be honest, I prefer pre-made sour cream angel food cake with my strawberries. My local grocery bakery has them on sale this time of year, and I can't make it better. Oh, let's face it, I've never made a successful angel food cake, ever. Sigh. But for a homemade dessert, this shortcake would be my choice. Couldn't be easier to make and tastes wonderful.

The cake is not terribly sweet which I prefer and I cut down the sugar on the strawberries by 1 tablespoon, because I prefer them tart. I can't omit the sugar completely because you need sugar to bring the juices out of the berries, essential for strawberry shortcake. So you may want to adjust the sugar up or down according to your preference. Additional sugar in the cake will not affect how it bakes up.

What's your favorite way to serve strawberries? Has anyone made a real Parisian strawberry tart? And more importantly, what are you weekend food plans?

Strawberry Shortcake
2 pints of strawberries, washed, hulled and sliced
5 to 7 tbsp sugar
2 cups unbleached flour
2 tsps baking powder
1/4 tsp baking soda
2 tbsp sugar
3/4 teaspoon salt
1-1/2 cups heavy cream (you can substitute 3/4 cup milk and 1/3 cup butter)
Whipped Cream (recipe below)
2 Mixing bowls
8×8 glass baking dish or baking sheet

Mix strawberries with 3 tablespoons sugar (I only used 2 tbsp, see note above) and set aside for at least 30 minutes at room temperature.

Preheat the oven to 400 degrees F.

Whisk together flour, baking powder, baking soda, remaining 2 tablespoons sugar (if you want sweeter, add an addition 1 to 2 tbsp sugar), and salt in a medium bowl. Add heavy cream and mix until just combined. You do not want to over mix this, just until all ingredients are combined, that's why it's important to whisk or sift together the dry ingredients. This is going to be a little moister than cookie dough – it does not look at all like cake batter, since it's more of a biscuit mix. Spoon mixture into an ungreased 8-x8 square pan and pat down either by hand or use a spatula. I used a baking sheet and dropped spoonfuls onto the sheet to make 6 individual cakes. Bake until golden, 18 to 20 minutes for cake pan, 10-12 minutes for baking sheet.

Remove shortcake from pan and place on a rack to cool slightly. Cut into 6 pieces and split each piece in half horizontally.

Spoon some of the strawberries with their juice onto each shortcake bottom. Top with a generous dollop of whipped cream and then the shortcake top. Spoon more strawberries over the top and serve.

I made the whipped cream ahead of time and let it refrigerate so it was nice and cold when served:

Whipped Cream
1 1/2 cups heavy cream, chilled (I chill the cream in a glass mixing bowl, along with the beaters)
3 tbsp sugar
1 1/2 tsp vanilla extract
1 teaspoon freshly grated lemon zest*

Using a mixer, beat the heavy cream, until soft peaks form, about 1 1/2 to 2 minutes. Fold in sugar, vanilla, and lemon zest*.

*some people really like this, me not so much, I thought it overwhelmed the cream. I'll omit it next time.