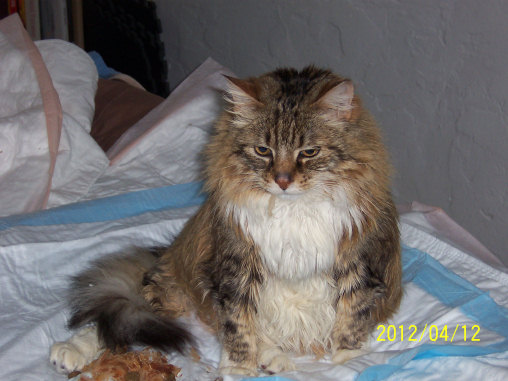 __
We were introduced to Hypatia two weeks ago. Here's an update from commentor Nethead Jay:
Last Wednesday the 16th Hypatia had an appointment at the Campus Veterinary Clinic for radiology (and clean-up) in preparation for referral to the neurologist. Here's my friend's account:

Hypatia's condition is… complex. She definitely heads for the litter box if she's already up and moving about but not if she's lying down. This seems inconsistent with "leakage" in terms of an infection or weak bladder, so I asked for clarification on the "did surgery weaken her bladder and, if so, how can this be corrected?". Well, no. The surgery goes through the bladder wall, nowhere near the bladder sphincter. Think of it like a c-section, which goes nowhere near the cervix. In Hypatia's case, it's more as if she's lost her "bladder sense", sort of a proprioception of the bladder instead of a limb. Dr. Yen feels very strongly that this is because the affected nerve locus is worsening, i.e., spinal arthritis or a pinched nerve, and her best hope is the neurologist.

The x-ray will help prove or disprove obvious orthopedic pathology. However, no matter if it's degenerative nerve disease or arthritis, it's directly affecting a nerve and that is not something he feels qualified to treat. After looking at the pictures, Dr. Yen thinks there's some slight displacement right at the base of her tail, i.e., the end of the spinal column, which is an area that is heavily innervated, including those to the bladder and colon. Huh! He's not certain, though, and will wait for the radiologist's report.

This visit came to a total of $213.75: $199 for the x-ray and 14.75 for "vet tech appointment" (they cleaned her up and charged a much lower rate than usual). Of that, $100 credit came from a donation through the vet clinic by one of the generous folks at B-J :-) Several others have donated through Paypal, which covered her prescriptions and 1 commenter sent an entire case of pads which came at just the right time.

And so today the 24th it was time for Hypatia's appointment with the neurologist at Sage Veterinary Facility. I'm out here in the Bay Area visiting my friend until next Wednesday so I accompanied her and Hypatia there. Hypatia was given a comprehensive neurological examination and my friend and the neurologist went over her entire medical history. The problems definitely seem to be coming from the lower spine, specifically the L5 nerve cluster, and are affecting both of her hind legs, the right being much more severely impacted than the left and her tail. The neurologist did not see any structural damage, but believes an MRI is necessary to pinpoint what exactly is causing the problems with the nerve cluster. This would have to take place at a facility in Redwood City, as that is the only place in the Bay Area which does veterinary MRI scannning. It would also be quite expensive. The doctor at Sage offered to help with transport from their place to Redwood City and back, but that still leaves going from Berkeley to Dublin and back. Todays consultation came to $220 plus around $200 for transport. We had been looking into using a pet taxi, but that turned out not to be possible as they don't carry insurance for passengers other than the pets.

So now my friend (and I) are in a holding pattern. She's very happy to finally be getting close to the root causes of Hypatia's troubles and that it might be possible to do something about them. But the cost and logistical difficulties look daunting. We've setup a new email address with Paypal so donations can go directly through to her instead of via my account. The address is: [email protected] (referring to all 3 kitties of hers, unfortunately variations of Hypatia were taken).
If you want to get in touch with Hypatia's person, email at AnneLaurie @ verizon.net (click on my name to the right) and I'll link you up.
For instance, I'm wondering if there isn't a BJ reader, or even an animalcentric friend-of-a-friend, who might have a car and the scheduling flexibility to get Hypatia and her person out to Redwood City and back?