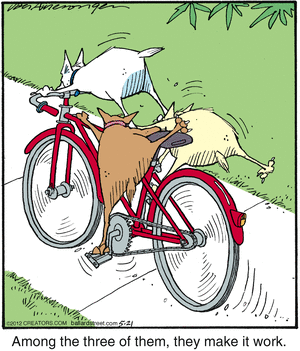 (Ballard Street via GoComics.com)
__
Traditionally, the Silly Season doesn't start till mid-summer, but it's not just the hot weather that's running well ahead of schedule.
A purported vial of Ronald Reagan's blood was offered for auction, but public outcry led to its eventual donation to the Reagan Library. Rude political columnists are already making cloning jokes, and no doubt the competition to design a proper reliquary will be fierce (alas, Thomas Kinkaide is no longer with us). And I never even got to use the joke about the eventual auction winner sending the vial — anonymously, of course — to the Oxford-Lausanne cryptozoology project!
In another sign that the premature heat has fried some peoples' few functional brain cells, the One Million Moms agitators (or, as Paul Constant refers to them, "Six Moms with Too Much Time on Their Hands and a Shitty Website") have started a letter-writing campaign to protest DC and Marvel Comics' upcoming gay character / gay wedding storylines… because the behavior of a mutant superhero in a comic book is liable to "mislead" impressionable young children as to how the world works. And because they are so innocent in the wicked ways of the internetz, the geniuses behind OMM decided to let commentors edit their form letter, too.
Apart from people making fools of themselves, what's on the agenda for the big (American) holiday weekend?