Ponderous here in the Hub of the Universe.  Hot, humid — summer in May.
I'm trying to recover and get a bit done while the munchkin naps.
But as I make my move, what do I find at my desk?
This: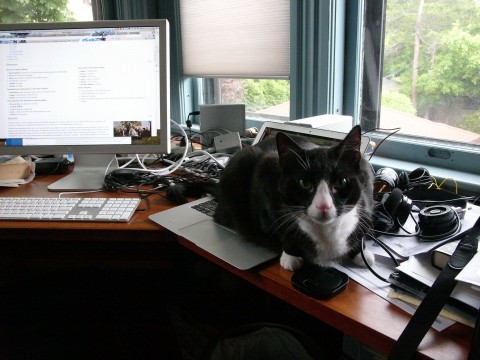 I'm guessing Tikka is saying "Don't even think about working today."
Not bad advice, actually.
As for the ritual nod in Charles Pierce's direction…Charlie has written a truly fine Memorial Day piece.
A sample, his conclusion:
On Memorial Day, when I visit the family plots in the old cemetery in Worcester when they've planted my forebears, I always wander over to one of the older sections where lie interred the veterans of the Grand Army Of The Republic, row after row of those round, generic tablets, each of them weathered and indistinguishable now from all the others. Memorial Day, after all, is a product of their war. Abraham Lincoln presaged it in the peroration of his magnificent Second Inaugural Address:

With malice toward none; with charity for all; with firmness in the right, as God gives us to see the right, let us strive on to finish the work we are in; to bind up the nation's wounds; to care for him who shall have borne the battle, and for his widow, and his orphan-to do all which may achieve and cherish a just, and a lasting peace, among ourselves, and with all nations.

After Lincoln's murder, the spirit of his remarks took hold in curious ways. On May 1, 1865, freed black slaves gathered to honor the Union prisoners who'd been buried in unmarked graves at the Charleston Race Course in South Carolina. Elsewhere, in the South, what was first known as Decoration Day became essential to the Lost Cause mythology that became so destructive to the descendants of those freedmen who'd honored the Union dead in Charleston. Supporting The Troops always has been a more complicated business than applauding at the ballpark.
The whole essay is more than worth your time.
With that — it's all yours. What's on for your holiday weekend?