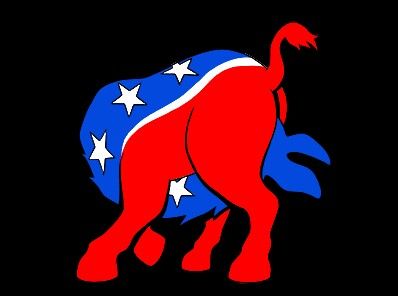 This kind of stuff makes me want to scream:
The chairwoman of the Democratic National Committee said Friday that if Milwaukee Mayor Tom Barrett (D) doesn't prevail over Gov. Scott Walker (R) in next month's Wisconsin recall election, there won't be any ramifications for Democrats nationally.

Democratic National Committee Chairwoman Debbie Wasserman Schultz (Fla.). (AP Photo/Alex Brandon)"I think, honestly, there aren't going to be any repercussions," Rep. Debbie Wasserman Schultz (D-Fla.) said in a broad-ranging interview on C-SPAN's "Newsmakers."

"It's an election that's based in Wisconsin. It's an election that I think is important nationally because Scott Walker is an example of how extreme the tea party has been when it comes to the policies that they have pushed the Republicans to adopt," Wasserman Schultz said. "But I think it'll be, at the end of the day, a Wisconsin-based election, and like I said, across the rest of the country and including in Wisconsin, President Obama is ahead."
I read that this morning and was tempted to stop my automatic monthly donation to the DNC. What the fuck is she thinking? Of course there will be ramifications, and mainly from labor, who busted their ass to get this recall to happen, were then saddled with the less labor friendly candidate to run against Barrett, and then watched the DNC say "Ah, fuck it. No money for you from us." Try winning the general election in November without broad union support, Debbie, you halfwit.
And it will also be demoralizing to every Democrat in the country who donated time and money to make this recall happen. Additionally, if Walker wins, it will embolden others like John Kasich to continue their anti-union and anti-worker policies. And on and on.
No ramifications? It'll be a disaster, and there is no way around that. Especially because this is a very winnable race.
And more upsetting is just the blasé attitude about this whole recall, and the unwillingness to get involved and help out. The entire job of the Democratic National Committee is to promote the party platform and to support Democratic candidates and help finance and support their campaigns. That is it. That is their entire fucking job. No ramifications is not the answer I want to hear from the head of the DNC. Every time a Democrat loses and election across the country, I want her to feel the same amount of pain as if she had lost her first-born child. I don't want her saying "no biggee" and whistling cheerfully as she moves on to her next interview or fundraising dinner.
God, I hate Democrats.