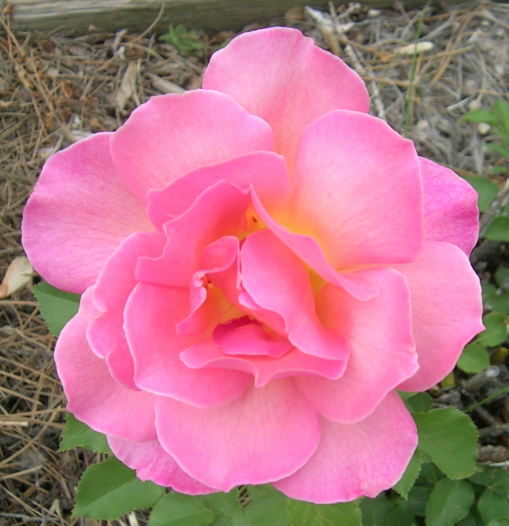 From commentor Jnfr:
My roses have started blooming!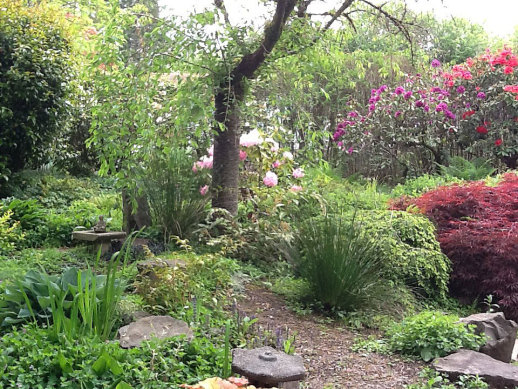 From commentor Marvel:
About this time of year I get so caught up in the Full Speed Ahead start of veggie-garden season, I sometimes forget to pause and spend a few quiet moments in our ornamental garden. OK — it's a fair cop: if my hand happens to drop down near a weed (where DO they all come from?!?!), I may pick it and send it to its grave, ever so peacefully.

Here's a snaphot of our side yard today — the rhodies & azaleas and Japanese maples are happy as clams lately.
And here north of Boston, most of my mail-order tomato plants are doing nicely. There are a couple of pea-sized fruit on the Stupice, which I expected, because it was the first to ripen here last year, even before the cherry tomatoes. And one slightly larger fruit on the Paul Robeson from Laurel's Heirloom Tomatoes, which I've never grown before, but I couldn't resist her description of "the finest tomato in existence". Exciting! — even though I know it's not a good long-term indicator, when Memorial Day is traditionally the earliest one should put out frost-sensitive plants around here.
How are things looking in your gardens?