Party was a hit. Stuffed peppers and chicken were rock solid, Chatman brought some swiss chard in a marinara and some spectacular egg salad dip (made from his little hen's eggs), Walt brought some great potatoes, Jess brought some deep fried asparagus (which I had never had but loved), there were some spinach and also a romaine salad, as well as a tomato/cuke/onion salad. A good time was had (and is being had) by all. Also, this was dog night- we had five of the hairy critters running around at one point. Here is the newest addition to the Bethany community, Frannie: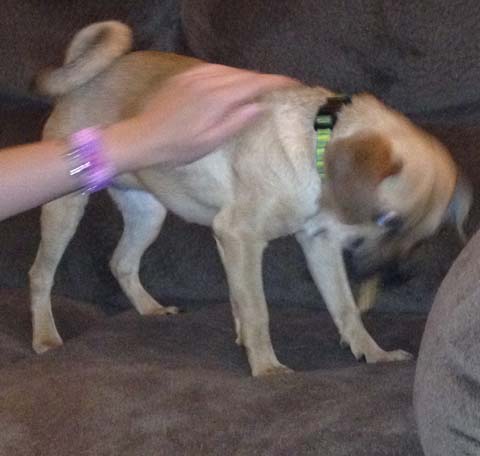 That's honestly the best picture I could get. I took about 20, but she's a puppy, so everything is a blur. She's a rescue puggle, and she takes cute to eleven. Earlier tonight when Harry and Chatman are over, they brought their dog Buddy Ray over, who is a schnauzer/JRT mix, and I motioned for Buddy Ray to hop up on my lap. As I was doing that, Rosie jumped up on my right thigh. So as Buddy Ray was climbing up, Lily came screaming over from the other couch, pushed Buddy Ray out of the way, and claimed the left thigh. It was like she was saying "I was docile the last time some strange got introduced into this household and I ended up with that Rosie shit going down, NOT FUCKING HAPPENING AGAIN." We all laughed.
Aside from the fact that all my friends are smart, love animals, and can cook, I turned on the mac mini and said "someone play some music." Went to the bathroom, and they were rocking Tennessee Jed when I came out.
I have such a good, good life.
*** Update ***
Some pictures from my friend Jill so you all can get a better look of Fran: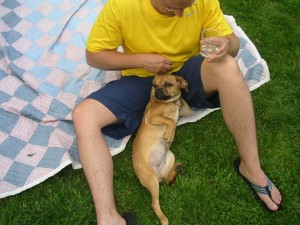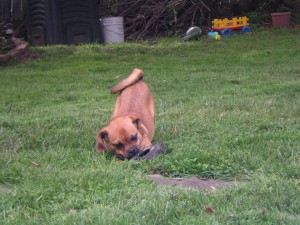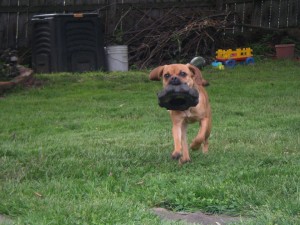 My favorite is the first, how she ran to Bill's lap and just melted and went all "VOGUE!" and showed her shit.