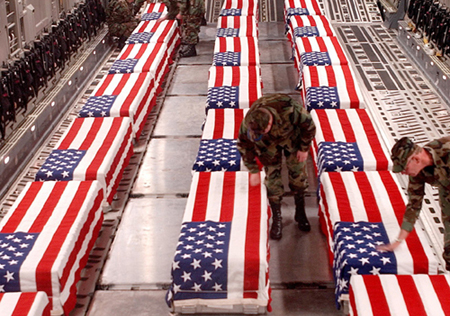 Cannon to right of them,
Cannon to left of them,
Cannon in front of them
Volley'd and thunder'd;
Storm'd at with shot and shell,
Boldly they rode and well,
Into the jaws of Death,
Into the mouth of hell
Rode the six hundred. – The Charge of the Light Brigade, Lord Tennyson
Inside me I'm screaming, nobody pays any attention. If I had arms, I could kill myself. If I had legs, I could run away. If I had a voice, I could talk and be some kind of company for myself. I could yell for help, but nobody would help me. – Johnny Got His Gun
"The wisest were just the poor and simple people. They knew the war to be a misfortune, whereas those who were better off, and should have been able to see more clearly what the consequences would be, were beside themselves with joy. Katczinsky said that was a result of their upbringing. It made them stupid. And what Kat said, he had thought about."

***

"He fell in October 1918, on a day that was so quiet and still on the whole front, that the army report confined itself to the single sentence: All quiet on the Western Front. He had fallen forward and lay on the earth as though sleeping. Turning him over one saw that he could not have suffered long; his face had an expression of calm, as though almost glad the end had come." – All Quiet on the Western Front.
We were the children of the 1950s and John F. Kennedy's young stalwarts of the early 1960s. He told the world that Americans would "pay any price, bear any burden, meet any hardship" in the defense of freedom. We were the down payment on that costly contract, but the man who signed it was not there when we fulfilled his promise. John F. Kennedy waited for us on a hill in Arlington National Cemetary, and in time we came by the thousands to fill those slopes with our white marble markers and to ask on the murmur of the wind if that was truly the future he had envisioned for us. – prologue from We Were Soldiers Once and Young by Harold G. Moore and Joseph F. Galloway.
Everyone has left the house, the kitchen is cleaned, the leftovers are secured, and I am a little tuned up. So I thought I would talk about the Chris Hayes comments that DougJ mentioned earlier (showing spectacular judgment, I might add, wading into a hot topic at 2 am after a few hours on the bottle. What can I say- I never learn.). At any rate, here are the remarks from Hayes that caused a shitstorm:
I think it's interesting because I think it is very difficult to talk about the war dead and the fallen without invoking valor, without invoking the words "heroes." Why do I feel so [uncomfortable] about the word "hero"? I feel comfortable — uncomfortable — about the word because it seems to me that it is so rhetorically proximate to justifications for more war. Um, and, I don't want to obviously desecrate or disrespect memory of anyone that's fallen, and obviously there are individual circumstances in which there is genuine, tremendous heroism: hail of gunfire, rescuing fellow soldiers and things like that. But it seems to me that we marshal this word in a way that is problematic. But maybe I'm wrong about that.
The feigned outrage of the day went to eleven, so he had to walk back his comments:
On Sunday, in discussing the uses of the word "hero" to describe those members of the armed forces who have given their lives, I don't think I lived up to the standards of rigor, respect and empathy for those affected by the issues we discuss that I've set for myself. I am deeply sorry for that.

As many have rightly pointed out, it's very easy for me, a TV host, to opine about the people who fight our wars, having never dodged a bullet or guarded a post or walked a mile in their boots. Of course, that is true of the overwhelming majority of our nation's citizens as a whole. One of the points made during Sunday's show was just how removed most Americans are from the wars we fight, how small a percentage of our population is asked to shoulder the entire burden and how easy it becomes to never read the names of those who are wounded and fight and die, to not ask questions about the direction of our strategy in Afghanistan, and to assuage our own collective guilt about this disconnect with a pro-forma ritual that we observe briefly before returning to our barbecues.

But in seeking to discuss the civilian-military divide and the social distance between those who fight and those who don't, I ended up reinforcing it, conforming to a stereotype of a removed pundit whose views are not anchored in the very real and very wrenching experience of this long decade of war. And for that I am truly sorry.
Not one thing he initially said offends me, and his point is worth understanding. The more we mindlessly cheer our war dead, the more likely we are to engage in more wars where we kill more of our kids for no good reason. Calling everyone a hero in a misguided war just makes it easier to make more "heroes." That was the point Hayes was trying to make.
Hayes wasn't shitting on our war dead. He was trying to keep us from making more dead 19 year old "heroes." Being bold enough to voice that opinion is a far more noble tribute to our war dead (aren't we always told they fought for our freedoms, including freedom of speech?) than all you fat fuckers like me in the heartland, grilling steaks, swilling beer, flying the flag, and high-fiving each other saying "HAPPY MEMORIAL DAY," convinced you've done your duty because you have a yellow ribbon on your Lincoln Land Yacht or Mercury Marquis Medicare Sled.
Chris Hayes, voicing an uncomfortable truth, is more of a patriot than any of you assholes with your mindless patriotism gleefully cheering our kids off to pointless wars to die as… "heroes."
Ask Kevin Tillman. As the quotes above from Tennyson, Galloway and Moore, and others note, we've been making heroes for hundreds of years. It takes nothing to go along with that status quo. It takes balls to stand up and say "Make it stop. No more heroes."
That is what Chris Hayes was doing. You should have his back. This former soldier does. Let's stop making dead heroes, and let's start using the terminology that the military already does- when we lose one of our own, it is a casualty. It's not just another "hero" to mindlessly salute, it's a real loss.
And let's support folks like Chris Hayes who want to stop these losses and have the nerve to use their public forum to try to make that point.