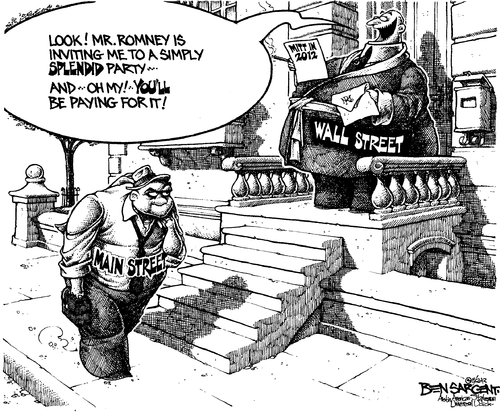 (Ben Sargent via GoComics.com)
__
Paul Constant at the Stranger informs us that "Mitt Romney Is Hanging Out with Terrible People Today":
Tonight, Mitt Romney will be attending a Vegas fundraiser with Donald Trump. The Romney campaign hopes to pull in some $2 million from the event. For that kind of money, Mitt Romney can totally tolerate Donald Trump's racist birther theories…

But Donald Trump is not the only terrible person Mitt Romney is meeting with in Vegas today. He's also found time in his busy schedule to meet with Sheldon Adelson, the casino magnate who singlehandedly propped up Newt Gingrich's campaign for months. I'm not sure Romney can get to 50.1% by cornering the market on freakishly wealthy jackasses, but he's sure as hell going to try…
Apart from the C.R.E.A.M. factor — as though there were anything in Romney's career apart from "Cash Rules Everything Around Me" — hanging with Trump and Adelson, both unabashed members of the Toad-American demographic, must appeal to Mitt's personal vanity. Half his political advertising relies on Romney's conviction that anybody who looks so patrician (that hair! that smile! those cold, soulless eyes!) is just entitled to whatever office he deigns to adorn. He's like the high school prom queen who thoughtfully anoints her least attractive hangers-on as her 'court', so that all the luzers will be reminded how much less gorgeous and worthy we are…
So, leaving aside the antics of the Repulsivican party, what's on the agenda for the evening?