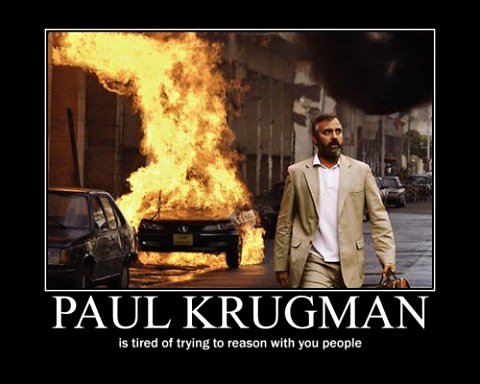 __
Professor Krugman (shrilly) calls out the Big Fiscal Phonies:
Quick quiz: What's a good five-letter description of Chris Christie, the Republican governor of New Jersey, that ends in "y"?

The obvious choice is, of course, "bully." But as a recent debate over the state's budget reveals, "phony" is an equally valid answer. And as Mr. Christie goes, so goes his party…

… [T]here have been many claims to that effect; Mr. Christie, in particular, has been widely held up, not least by himself, as an example of a politician willing to make tough choices.

But last week we got to see him facing an actual tough choice — and aside from the yelling-at-people thing, he proved himself just another standard fiscal phony.

Here's the story: For some time now Mr. Christie has been touting what he calls the "Jersey comeback." Even before his latest outburst, it was hard to see what he was talking about: yes, there have been some job gains in the McMansion State since Mr. Christie took office, but they have lagged gains both in the nation as a whole and in New York and Connecticut, the obvious points of comparison….
Right on cue, Dubya's old speechwriter Michael Gerson oozes up out of his holding tank to propose "The Right Running Mate for Romney":
By this standard, one Republican vice presidential prospect stands out. Chris Christie may have the aspect of William Howard Taft, but he has the manner of Teddy Roosevelt — tough, tenacious, tireless. Christie is naturally and constantly on the offensive. When he takes off his jacket at a town hall meeting, someone is in for a rough ride. But his most exceptional political skill is not confrontation but explanation — educating voters in the grim realities of state budgeting, public pensions, unfunded liabilities and teacher union obstructionism. He is both pugilist and professor — a good vice presidential combination.

Christie would not transform New Jersey into a presidential swing state — a persistent but hopeless Republican dream. But he could contribute to the repositioning of the Romney campaign in two important, seemingly contradictory ways. Christie would provide an infusion of blue-collar combativeness, which is foreign to Romney and pleasing to GOP conservatives. At the same time, Christie would represent a move to the ideological center. He is not a global warming skeptic. He supported an assault weapons ban in his state. He is an immigration moderate and has friendly relations with New Jersey's Muslim community.

Christie, at his worst, is capable of nastiness and name-calling — tendencies he would need to keep in check on a national ticket. But who else in the Republican Party combines a tea party tone with a relatively moderate public record? What other choice would cause Republicans to pray for 10 vice presidential debates?…
That high-pitched screaming from the direction of Oyster Bay is Zombie Teddy Roosevelt clawing from the grave to eat Gerson's face (since there are no brains behind it). And I don't think Chief Justice Taft would be too pleased with Gerson, either.
Apart from smarmy grifters disgracing the good name of their historical betters, what's on the agenda for the day?