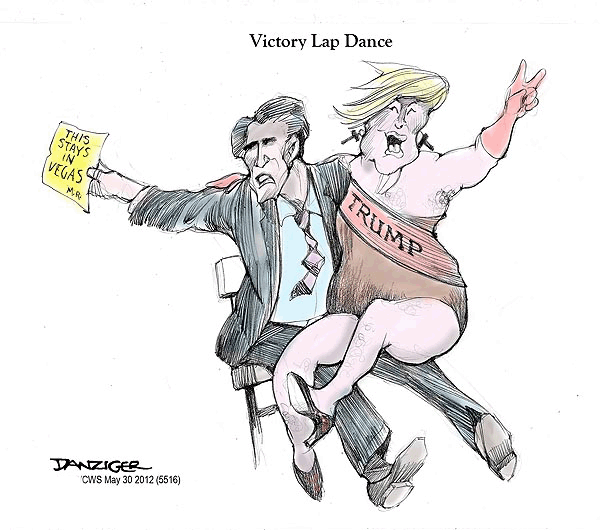 (Jeff Danziger's website)
__
Cannot resist sharing the latest from the best political cartoonist now working, and the complimentary excerpt from my favorite professional political blogger:
… Have you watched those lop-ears fall in line over the last month, since it's been clear that I've cleared the deal for the mortgage on their minds and levied the lien on their souls? I mean, seriously, have you? Perry was out the other day defending me on Bain and all, and every verb had a subject and an object. Finally got the dosage right, I guess. And Gingrich? Geez, he was on TV just the other day acting like private equity was the best damn thing he'd heard of since the last time someone told him about that hot number that the Appropriations staff just hired. They'd all form a kick line at the Venetian if I asked them to, and I just might, because I sealed the deal last night in Texas, and they all know just as you all know that…

I'm Mitt Romney, bitches, and I'm all you got left.

So, on the night I sewed it up, I went and hung with Trump. So what? You got a problem with that? Here, let me lay a couple hundred thou' on you and make that problem go away. You think it's going to matter in a week? A month? Or, as we figure things in the campaign, 9000 commercials from now? Give me a freaking break. George F. Will is puzzled by why I'm hanging out with Trump? What do I "hope to gain"? Let me clear it up for you, George. Right now, I could go to California tomorrow, hang out with Charlie Manson at Corcoran for a few hours, and come away with the buck-and-a-half a week he makes folding sheets in the prison laundry. We could both carve X's in our foreheads and call in the AP for a photo op. Watch this: "HELLLLLTER SKELLLLTER! SHE COMIN' DOWN FAST!" You think it's more than a one-day story, a bunch of people I wouldn't hire to clean out the dressage barns mouthing off on TV about what I "hoped to gain" from associating with crazy-ass mass murderers? You keep worrying about LaRussa's bullpen, or that 36-ounce Mizuno you've had stuck up your ass since the Carter Administration, and you let me worry about what I hope to gain from things. I remember guys like you from prep school, hanging back while guys like me did the real work of bullying the people who didn't look like me. Back up on the roof rack, George. We'll be in Ontario in no time…
Thank you, Mr. Pierce, for saying what needed to be said. Believe in Amercia!
What's on the agenda on the day when it becomes overwhelmingly clear that five days' work into a four-day week won't go?