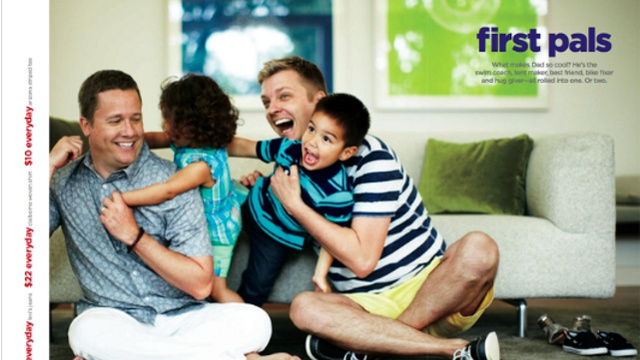 Here's JCPenney's response to the boycotting, caterwauling and whining about their use of Ellen DeGeneres as a spokesperson.
According to the company, the two men who appear in the ad are "real-life dads Todd Koch and Cooper Smith," and the jubilant children are their kids, Claire and Mason.
In other news about gay parents, Eagle Scout Zach Wahls delivered a petition with 250,000 signatures to the leadership of the Boy Scouts of America, asking them to stop discriminating against gay parents. The petition was a response to the Scouts prohibiting the lesbian mother of a 7 year-old from being a Cub Scout den leader. Wahls is the author of My Two Moms, which explains how his mothers taught him the virtues of the Boy Scout Code. One of his mothers was his troop leader, because the Scouts leave enforcement of their anti-homosexuality clause to the discretion of local Scout organizations.
Wahls came to attention because of his testimony to the Iowa state legislature on the gay marriage bill. If you want to read the first book by someone who's going to make a major impact in politics, My Two Moms is a good bet. This young man will do something great in politics if that's the path he chooses.