Today's my 31st birthday, so I am taking a little "me time" to blog about education. My plan is to write a three-post series: one asking whether we are in an education crisis; one exploring selection bias, attrition, scale, and other important dynamics in understanding education and education metrics; and one which explains why our educational discourse is broken, why fixing it requires a move from a dialogue dominated by theory and conjecture to one favoring empiricism, and how bad politics and distortions are impacting the debate.
The proximate cause of this series is just one bad post on educational policy in a discourse that is full of them. Megan McArdle is away on assignment and has left her blog to guest bloggers. Yesterday, a guest blogger posting under the pseudonym "Dr. Manhattan" uncorked an argument for Mitt Romney's education policy, concerning special education and private school vouchers. I would nominate it as a model of how not to responsibly write about education. The post is almost entirely without evidence. "Dr. Manhattan" makes claim after claim that he apparently feels no obligation to defend with data. The piece happens to be published by a highly-read, highly-influential magazine, The Atlantic. My frustration stems from how perfectly typical the post is of a fundamentally broken discourse on education. So here goes an attempt to speak empirically and carefully.
Are We in an Education Crisis?
Let's take a basic claim from Dr. Manhattan, one that will be quite familiar to you: "Shockingly, many school systems are not well functioning." Now, where I come from, to say something like this would require defining what "many" and "not well functioning" means, and then reference to responsibly generated data that demonstrates the accuracy of that claim given those definitions. Manhattan provides neither definitions nor data. This is one of the most important and most distorting elements of American educational debate: the widespread notion that we are in an educational crisis, the idea that "everyone knows" American public schools are failing most of our students. In fact, the best evidence is that American public education is adequate, with most districts providing quality education and national metrics dragged down by terribly low-performing schools and districts in poverty-stricken areas. Let's look at some of that evidence. To begin, I quote William Ghalston from almost a decade ago, expressing what is to me still the most sensible way to understand American education: as a function of the two Americas, a country split by class and race divisions that are bound up in historical oppression.
Where are we today: is the US system of public education as a whole in crisis? The answer to that question, I believe, is no. Today it would be more accurate to say that we have two systems of public education, not one. The first of them is based principally, though not entirely, in the suburbs of this country and [in] some of the wealthier urban jurisdictions and districts. That is a public school system that could be better and should be better. In many respects it is mediocre, particularly when compared to our international peers in the advanced industrial nations. But it is not failing its students.

The second system of public education, which is based principally in poorer urban and rural areas, is indeed in crisis. Too many of the students in those schools are dropping out well before high school graduation. Too many are receiving high school diplomas that do not certify academic confidence in basic subjects. Too many are being left unprepared for the world of work. Too many are being left unprepared to go on to higher education and advanced technical training. Those schools are indeed in crisis and they require emergency treatment
Not great, but not bad, and largely a product of existing social inequalities. Now, you might be tempted to say that Ghalston was speaking quite a while ago, in 2000, and the situation has gotten worse. In fact, the situation has gotten better. The latest NAEP report on mathematics is available as a PDF. Here's NAEP mathematics scores over time, for fourth and eighth graders.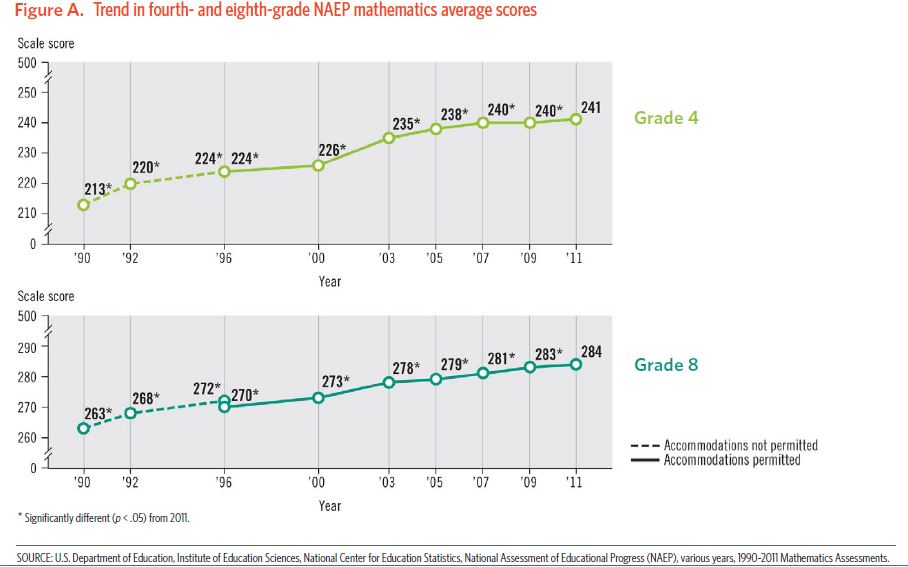 But reading's gotten worse, right? No.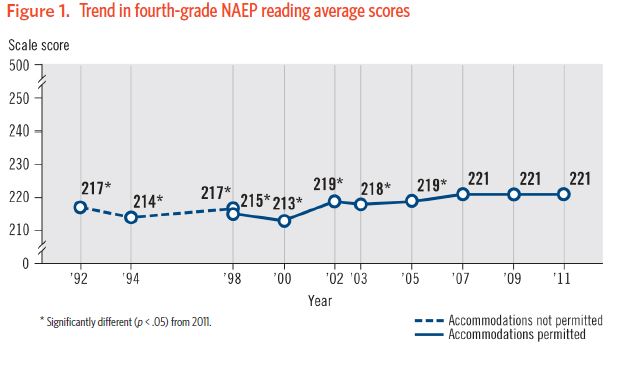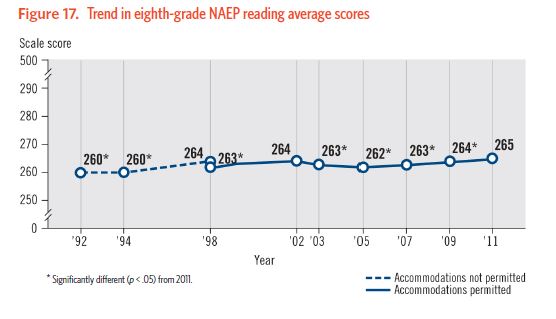 Gains have been modest, but they have been measured. As with mathematics, they show large racial achievement gaps, as can be observed in the full report. Using the imperfect proxy of eligibility for school lunch assistance as a measure of socioeconomic class, they also show large achievement gaps between rich and poor. Why is reading improvement slow? It's a complicated question and one I'm not ready to advanced a strong thesis on. One plausible explanation is that the country's influx of non-native English speaking students, housed in large proportions in public schools, likely depresses reading scores. According to the NCES in 2010, "Between 1979 and 2008, the number of school-age children who spoke a language other than English at home increased from 3.8 to 10.9 million, or from 9 to 21 percent of the population of children ages 5–17."
How about graduation rates? They're bad and getting worse, right? No. High school graduation rates have improved recently, and in fact show long, slow improvement over the decades. As with other educational metrics, graduation rates are stratified by race and by social class, demonstrating the profoundly confounding influence of disadvantage and historical oppression.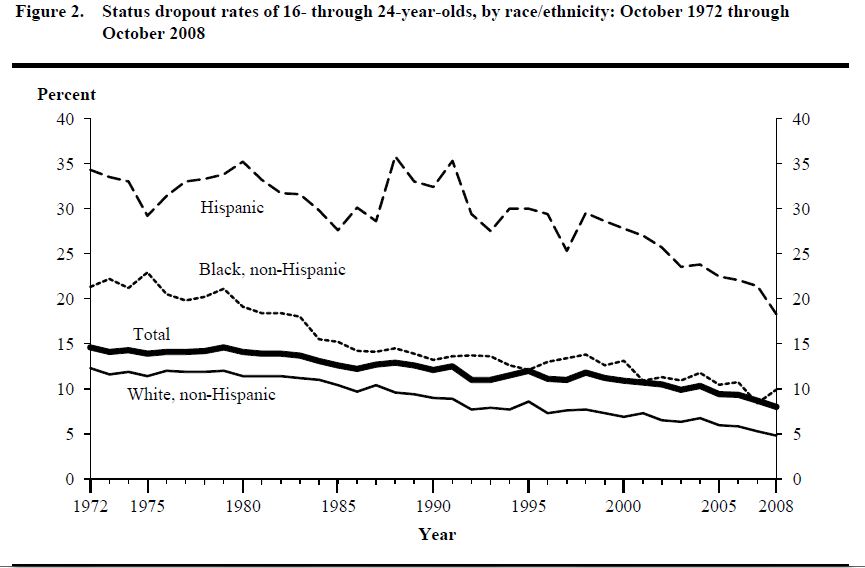 Clearly, getting a high school education is very important. That's why one of the most important (albeit underdiscussed) positive stories in education of the last several decades is the rise in students achieving a high school diploma or its equivalent outside of the high school system, particularly among black and Hispanic students: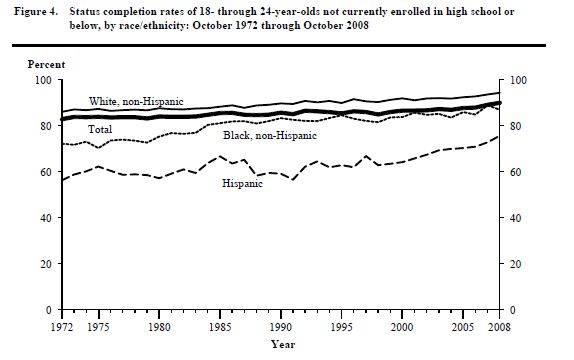 How about access to college education and educational attainment? Again: in need of improvement, broadly stratified by race and social class, and gradually improving:
But we aren't graduating enough students in STEM majors, leading to structural unemployment, right? No. As Paul Krugman and Ben Bernanke have convincingly argued, unemployment has risen across sectors of the economy, in depression conditions, and reflect a failure of aggregate demand. Additionally, this paper from Rutgers and this testimony (hat tip David Sirota) demonstrates that the idea of inadequate supply of STEM majors is a myth. Broad unemployment does not reflect educational failure but a failure of macroeconomic fiscal and monetary policy.
We Were Never the Best in Education
A persistent myth which contributes to the perception that we have an education crisis in this country is the notion that we were once an educational powerhouse and have since stumbled into failure. There is simply no credible evidence that we were ever the best performing nation in education, or even among the best. As I said on this blog recently:
That we were once number one in education is a beloved opinion of education "reformers" and those like Brooks who yearn for a prelapsarian age when we all pulled ourselves up by our bootstraps. The problem is that there isn't any evidence that it's true. As a very useful Brookings Institute report from 2010 shows (h/t Liz Dwyer), we weren't ever number one. Dwyer looks at the example of math: in 1964, back when our economy was go-go, the space race was swinging, we hadn't yet been chased out of Saigon, and the world looked a lot more like David Brooks wants it to look, American students ranked 11th in math. Out of 12.
Long, Slow Improvement is What You Want in Education
Among education researchers, you sometimes hear that the only outcome worse than numbers that are too bad is numbers that are too good. In my own research, I know to distrust any outcome that seems to good. Why? Because time and time again, major improvements are revealed to be the products of bad research, flawed metrics, or fraud. Holly Yettick described a perfectly common situation with a "miracle school district":
If I am a little more skeptical these days of educational miracles, it might be because I have been around long enough to witness personally the disappearance of some of the most lauded wonders of my reporting days.  All of them follow a pattern. High poverty rates.  Amazing results. Pat explanations, short enough to fit on a political button…. in her 2009 book, "Changing the Odds for Children at Risk," Susan Neuman writes of returning two years later to a miracle school she had visited early in her term as Assistant Secretary of Elementary and Secondary Education under George W. Bush:  "After the original media attention had turned to other matters and the specialists and scholars had moved on to other projects, the school once again slid back into the murk of poverty's inertia."
On planet Earth, gains in education are slow and gradual. Slow and gradual change, unfortunately, is not well-suited to political bombast. In context, I would argue that our educational metrics demonstrate what you want to see: slow but real change over time.
Still, some will rush to point out that public schools still are outperformed by private schools on many conventional metrics. Why? To understand that, you've got to understand selection bias, ability effects, attrition, and scaling, and that will be the subject of the second post in this series.