Zandar is playing with me.
The divine Ms. M is packing up her toys and heading off to Tina Brown's playpen for the formerly hip.
Zandar wants me to go medieval on somebody — McArdle, Brown, whoever.  But I won't, because I am going to be busy popping popcorn.  I do not think this marriage will end well.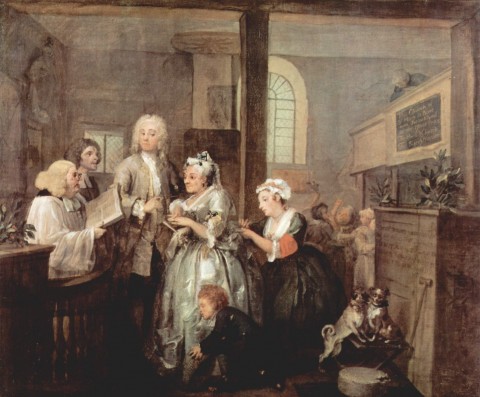 Why?
You may well ask.
After all, this hire is Brown's MO.  McArdle is click bait; she carries with her quite a comment community, and eyeballs and buzz are Brown's crack-cocaine.
And hey! Brown's got the magic back — or so recent ad page and revenue numbers suggest.  Newsweek ads and cash are up about 27% year over year for the first quarter of 2012.  Page views at the Daily Beast are up too — up to 12.7 monthly uniques from ten-ish when the site merged with Newsweek.
Except…the Daily Beast, which has never made money, and Newsweek which hasn't for a while, are still deep in a hole.  Brown has denied that the loss stretched to $30 million last year, as reported, saying that losses weren't that "excessive" — but she has offered no alternate figure.
In that context It's worth noting that Newsweek's ad page total for Q1 2012 — 183.26 (sic) — works out to about 15 pages per issue, which, though that's better than 12 pages/issue of a year earlier, isn't what you'd call a robust commercial base. At the same time, that growing number of uniques —  not a number to sneeze at, certainly — is still insufficient to make the site profitable.  That should worry optimists, given what people are starting to notice about online advertising in the wake of the Facebook IPO.  Maybe Brown is right in saying that profitability is still visible on the initial five year plan for the merged network…and maybe we're watching the early stages of a media Webvan.
So, to me, jaundiced as I am, cynical, utterly unmoved by the Bulgari-and-dead body juxtapositions that characterize the Brown style,* I couldn't be happier to see McArdle move from a strong brand and a company in profit for the first time in decades to an admittedly larger, but much dicier platform.
In fact, I think the move reflects an inflection point.  Brown is supposed to be the queen of the zeitgeist, someone who can match copy, style and audience with a precision no one else can muster.  She spends with glee — and one has to assume that she used cash to lure McArdle from the cozy tent of The Atlantic.  But her Vanity Fair days are long gone, and Talk is a DeLorean of the magazine world — a hole into which money was thrown.  Not to mention — or did I say it? — The Daily Beast has never made money.  It has been a lovely landing place for predictable Brits and the other usual suspects, but somehow, despite the gains of the last two years, I can't see a publication touting the always-wrong Niall Ferguson and Megan Freaking McArdle as the rising to the level of an elite, must-read site.
Worse — while McArdle does collect the hits and the sputtering indignation of people like me, it strikes me that you get her out of the Atlantic hothouse and she becomes both less consequential and more potentially damaging to the enterprise at large.  Newsweek, perpetually the "wait for me" second-place runner in the newsweekly stakes, still carries with it the whiff of journalism. Every slip of McArdle's calculator erodes whatever such halo may be left.  Not a good prospect.
Enough — I've never run a publication, and I'm pretty sure that my tastes would guarantee circulation in the high single digits, if not more.  Maybe this is a match made in heaven, and I'll learn again that it's Tina's world, and we remain here at her whim — we make good pets, after all.
But for now, I'm just going to sit back and wait for the next great McArdle fiasco.  Good times.
*See, e.g., this quote from a saccharine  New York Times Brown profile way back in 2011:
"There's a great kind of high-low, newsy, sexy thing that the European newsmagazines have," Brown said. "They have this great sort of slightly freewheeling pagination, where they go from a great sexy picture of an expensive watch to Libya or something.
Let me hear you say, "Oy."
Images: William Hogarth, A Rake's Progress, Marriage, 1732-1735.
Ernst Ludwig Kirchner, Café in Davos,  1928