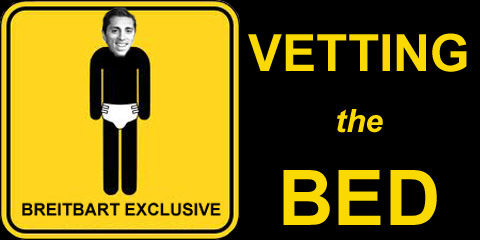 In the most impactful journalistic feat of impacted extraction seen since the late Andy Rooney's final colonoscopy monologue, Breitbart cub reporter Joel Pollak squirts out another HUGE STORY in his ongoing "Vetting the Bed"* series.
The latest EXCLUSIVE, MUST CREDIT BREITBART.COM story reveals that an assistant professor currently residing in Alabama said on a blog seven years ago that some people at his barbeque said they saw future President Obama over the fence at another barbeque hosted by DOMESTIC TERRORISTS Bill Ayers and Bernadine Dohrn.
Further, the now-professor in Alabama mentioned on his now-defunct blog that it rained at his barbeque, and Pollak found out on the Internet that rain was reported in Chicago that day. So suck it, libtards: This is proof that Obama is a radical leftwing terrorist who was raised jointly by the Black Panthers and Weather Underground and elected to enact their shadowy agenda.
Or maybe it merely proves that the big reveals can get even more lame and obscure as you work your way methodically through all 900M+ Google search results for "Barack Obama" in search of wingnut skree-bait. Either way, this is HUGE, you guys!
*H/T: Different Church Lady
[X-posted at
Rumproast
]