I've now officially spent the whole night running around playing with the pets- I guess the exhaustion of the early morning news about dad which led to a nice hour long nap this afternoon has me especially wired. At any rate, I chased Lily around the house singing my newest Lily song, which is "OH LILY YOU'RE SO FINE, YOU'RE SO FINE YOU BLOW MY MIND, HEY LILY!" She really loves it if you use falsetto: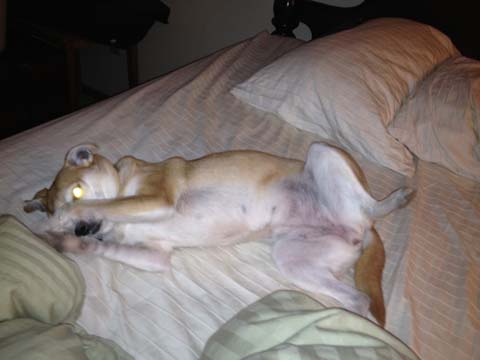 I understand that "HEY LILY" is not quite as catchy as "My blood runs cold, my Lily is the Centerfold" or "Lily, Lily, Why ya buggin" or many of thr other catchy songs I sing to the notorious D.O.G., but you work with what you got. I am white and have no singing talent, folks.
And before the haters start with the "WHAT ABOUT ROSIE?" crap, she is outside stalking rabbits. It's 70 degrees here, so I left the back porch open, and she is out guarding the yard.
*** Update ***
As sad as it seems, I've also sung this to Lily (WHILE SHE LICKED MY FACE, SO IT WAS NOT ALL FOR NAUGHT):
Flame away.