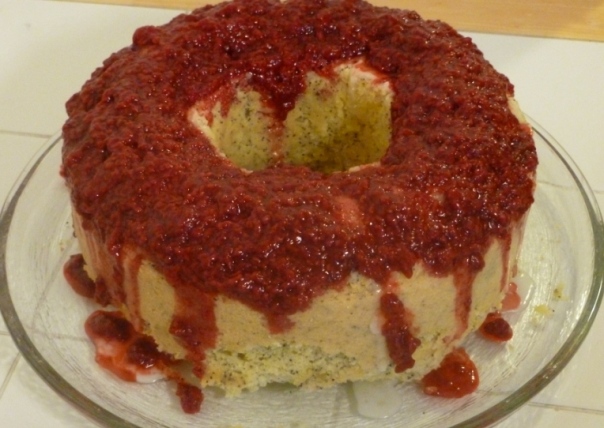 __
Got an email from TaMara, life got ahead of her and there's no official Thursday Night Recipe Exchange this week. So — entirely on my own authority — y'all get a picture of her awesome Raspberry Lemon Cake, and a hint that next week's exchange should involve "cold soups or cold salads".
As a bonus, here's Charles Mudede at Seattle's Stranger mocking Heartland cuisine:
Despite all of these buffalos all over the fucking place, I failed to find one joint in this part of America (coded as rural) that didn't prepare its meat as if it were going to be served to dogs. With rural (coded) Americans, it's not about food, but feed. We do not eat like this in cities; we do not treat our tongues like the soles of our shoes…

No wonder God is so popular in these parts. Folks have to hold hands around the dinner table and pray they make it through yet another miserable, vapid, horribly prepared meal. Amen.
What's for dinner at your place tonight?