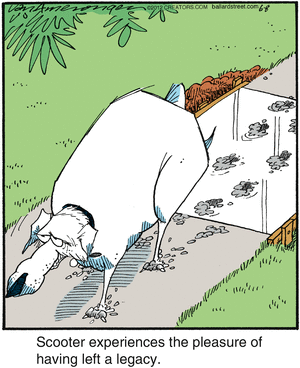 (Ballard Street via GoComics.com)
__
Matt Taibbi, it seems, achieved the first and possibly last successful Thunderclap, reports The Verge:
Yesterday at noon Rolling Stone writer Matt Taibi sent the inaugural Thunderclap, when he and 1,921 other people Tweeted simultaneously at a pair of U.S. senators. Taibi used an app, Thunderclap, built by a small team in New York. The service lets Twitter users break above the din by organizing for a mass messaging, a wave of tweets that hits at the same time.

Twitter suspended the startup's OAuth token today, after it sent its second "thunderclap" to Congress. Twitter told the Thunderclap team it was violating the site's terms of service by "sending multiple @ mentions and automating sending tweets."…
Speaking of taking all the fun out of things, Paul Constant at the Stranger reports that the Paulistas are distraught:
Last night, Ron Paul announced that his delegate total was not enough to win the Republican presidential nomination. Instead, he says that his delegates—about a fifth of the delegates available—could "grow our movement and shape the future." How he intends to "grow" his "movement" is unclear—he's not even angling for a speaking spot at the convention…
Much more nutpicking explication at the link. Dr. RonPaul's fiercest supporters cannot understand why their standardbearer should fail them now, but perhaps RandPaul's shiny new endorsement of Willard "Mitt" Romney has something to do with it…
ETA: If something about the blogosphere seems just a little less ugly and rancid today, consider TBogg's explanation of "The Silence of the Lames"…
Apart from leaving defiant graffiti in the wet cement of history, what's on the agenda today?