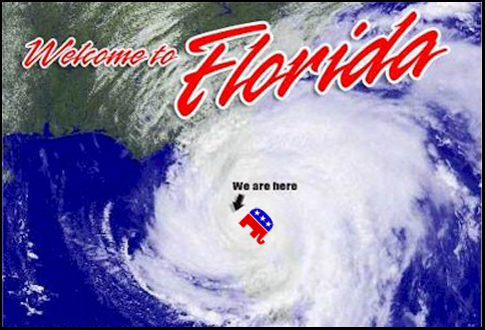 Florida is a wretched hellscape in August, with 100-degree temperatures, smothering humidity, daily monsoons and the ever-present threat of hurricanes. But the GOP is having its convention here anyway, perhaps for the same reason thieves often target Jeep products: It's relatively easy to steal. With a cast of even more comically obvious villains controlling state government than those who boosted Bush the Lesser over the top in 2000, it'll be "Gone in 60 Seconds."
But there's still the problem of how to protect melanin-deficient RNC delegates from the ferocious heat and unpredictable weather: The polyester-and-pantyhose faction and bespoke-suited plutocratic contingent alike are in danger of wilting under the fierce Florida sun or being pelted senseless by the sudden onslaught of wind-driven rain as they shuttle drearily between the Tampa Convention Center and Tampa Bay Times Forum (and titty bars).
To address this problem, the Tampa Bay Host Committee is considering a blocks-long, air-conditioned tube to connect the two staging areas. Since the summer storms often produce water spouts, small tornadoes and sudden, strong wind gusts capable of knocking over grandfather oaks, I can't see any drawback to a plan that involves packing scores of RNC delegates into a long, outdoor plastic tube. Nope, no problem at all.
[X-posted at
Rumproast
]