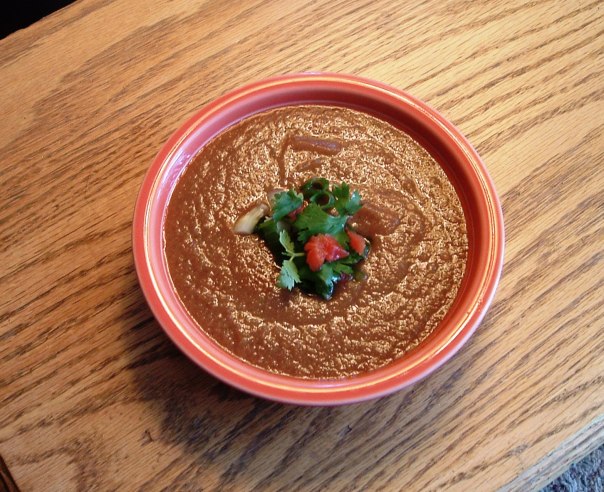 __
From our Food Goddess, TaMara:
Things are still quite smokey here. The fire is about 40 miles north of here and depending on the wind we can get a heavy covering of thick smoke. Between the heat and the smoke, I have not felt like cooking. So I was glad cold soups were on the menu this week. I can get behind that.

I have quite few cold soups on the blog. If you click here on Cold Soups, you'll find all of them. Tonight I'll feature a Creamy Gazpacho and Cucumber Tomato Soup.

Creamy Gazpacho
6 medium, ripe tomatoes, cored
1 large cucumber, peeled, halved, and seeded (I used an English cucumber)
1 medium green bell pepper , halved, cored and seeded
6 green onions, roots removed
2 tsp crushed garlic
1 small serrano chile , stemmed and halved lengthwise
1 small jalapeno, stemmed and halved lenghthwise
1/4 green chili, stemmed and halved
1 1/4 tsp sea salt
1 slice thick white bread, crusted removed, broken in pieces
1 tbsp extra virgin olive oil
2 tbsp red wine vinegar
Dash of limejuice
2 cups water or salt-free vegetable broth
2 tbsp finely minced chives or cilantro (I did a little mix of the two)
Ground black pepper

Chop 5 of the tomatoes, half of cucumber, half of bell pepper, and all but two of the onions into large pieces (you'll be blending, so no need to go all crazy here) and place in large bowl. Add garlic, chilies, and 1 teaspoon salt; toss until well combined. Set aside for at least 1 hour.

Finely dice remaining tomato, cucumber, and pepper, place vegetables in medium bowl. Mince remaining onion and add to diced vegetables. Toss with 1/4 tsp salt and transfer to a strainer set over medium bowl. Set aside 1 hour.

Transfer drained finely diced vegetables back to medium bowl, cover tightly and set aside. Add bread pieces to exuded liquid (there should be about ¼ cup) and soak 1 minute. Add soaked bread and any remaining liquid to roughly chopped vegetables and toss thoroughly to combine.

Transfer roughly chopped vegetables and water to a blender and blend until smooth, you may have to do this in two batches. Slowly drizzle in oil while blending, blend until smooth. You can run the entire thing through a strainer (use the back of spoon to press through) if you want it to be completely smooth. Full disclosure, I neither peel or seed my tomatoes and as you can imagine, I didn't strain my soup.

Stir vinegar, minced herb, limejuice, and half of diced vegetables into soup and season to taste with salt and pepper. Cover and refrigerate (you can do this overnight) to chill completely and develop flavors. Serve with remaining diced vegetables as garnish.

For the Cucumber Tomato Cold Soup, click here. It's a very pretty soup that makes a great first course at your next BBQ.