Going back to my roots here.
__
I love Sargent's portraits.  He gives me plenty 0f sheer sensual pleasure:  the texture of the paint, the color, his play of light — all that adds up to works that are very pleasing (to me) to look at.   And I love his subtle knife:  he's not painting likenesses, simply so.  There's a sense of interpretation, of commentary.  He knew wealth; he painted the wealthy; he made a fair sum doing so.  But he was able, always to see something in the character…and let that out, however carefully, however it cracked the myths his sitters may have hoped he'd reveal.  Hence, I was delighted for the excuse to use this one in the post below: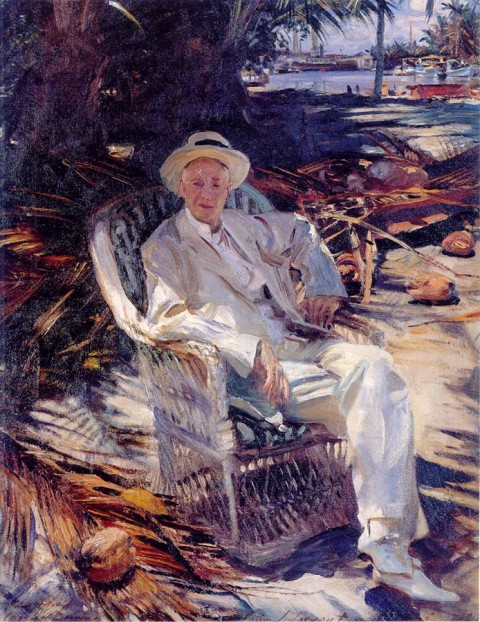 But even if you aren't persuaded, even if you see JSS as just another guy who made his way by showing the 1% what they wanted to see, even if you think he's merely a "pretty" painter — you have to account for this:

Gassed may be the greatest anti-war painting ever made.
(I know that some of you will toss Guernica at me.  You could be right….but the debate's an open one.)
What really gets me, though, is that the same man who could capture the cool reserve of some rich guy in Miami in 1917, (Deering was actually a  friend of Sargent's) could paint that next canvas just one year later.
Merely a society boy?  I don't think so.
And with that:  open thread.
Images:  John Singer Sargent, Charles Deering at Brickell Point, Miami, 1917.
John Singer Sargent, Gassed, 1918.