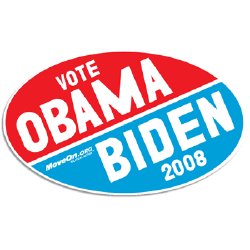 Every time I see this sticker on a car, I get a little irritated, because it means somebody gave MoveOn some money instead of sending it directly to the Obama campaign.  In this particular transaction, MoveOn is a middleman that's not adding any value–they're just skimming a bit off the top of the enthusiasm for Obama and taking it as their own.
That might not be a majority opinion, but if you're sympathetic, then you might be interested in my simple theory for one part of the reason that Netroots Nation is so hostile to the Obama campaign. It's because they wanted to be a middleman delivering net-centric activists, and the Obama campaign cut them out of the picture.
In 2012, Netroots Nation, the Daily Kos and Markos Moulitsas himself are essentially irrelevant to the Obama gameplan. No major names from the Obama campaign attended or spoke. In fact, there were hardly any elected Democrats there (Sheldon Whitehouse was probably the biggest name among them.)  Nancy Pelosi, who had been a regular, was a no-show, as was Harry Reid.
In the early years, when big-name Democrats attended their convention, the Kossacks were positioning themselves to deliver "a tremendous and growing number of citizens gathered every day in the virtual world to raise their collective voice and proactively influence their government".  I think the Clinton campaign would have let them handle "net outreach" if Clinton had been nominated. After all, the Clinton Internet and social media efforts were far less sophisticated than the Obama campaign's.
Instead, the Obama campaign of 2008 built an Internet connection machine beyond the imaginings of probably even the Kos staff. People could blog at Obama's site, the campaign connected with activists through their accounts on the site, and the net was used to mobilize activists in blue states to work in swing states, in many cases virtually via an Internet-mediated call system. MyBarackObama.com, not DailyKos.com, was where you went in 2008 if you were an Obama supporter. After watching what the Obama campaign built, other establishment Democrats saw how it was done, and most decided that courting Netroots was more trouble than it was worth.
I don't think this is the only, or even the main, reason for the Netroots anger against Obama, and certainly I have to make a distinction between the attendees I met there, who support Obama and enjoy NRN, and the Obama critics who also attended. But I do think there's something to it.