It won't surprise you that ABC News is rallying around the Daily Caller.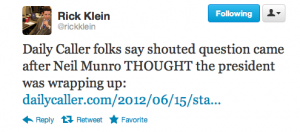 Update. Klein later retweeted something from another reporter saying he didn't believe Munro's story. Jim Newell sums the whole thing up pretty well:
This was a great PR thing that Tucker Carlson did for his little website and your ethical rebukes will only make him happier. Pure bad faith, baby, that's how we roll in the Greatest Country In The History Of The World these days.