Reader JK sent the latest from the cool kids in DC, who apparently hadn't taken their Adderall before Obama's speech yesterday and started squirming in the pews:
All of these points have already been featured in the president's other recent speeches. Between the pre-speech hype from the campaign, the lack of new material and the overall length of the speech reporters were clearly dissatisfied with end result. Read on for a sampling of Tweets from the political press slamming the president's speech.

Before the speech was over, MSNBC's Mike O'Brien begged the president to stop. […]

On the air, MSNBC's Jonathan Alter said it was "one of the worst speeches I've ever heard Barack Obama make." He refused to back down. […]

ABC News reporter Devin Dwyer felt like we were all being lectured. […]
These guys are right – the economy is done to death. Nobody cares about it anymore. That's why you can barely find a mention of Obama's speech on the Washington Post, while this new, exciting topic is at the top of the page: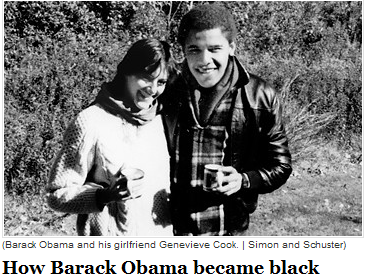 Now there's a puzzle for our times. Was it osmosis? Photosynthesis? Did some kind of melanin fairy visit him in the middle of the night? Also, too: if my keen sense of racial identification doesn't fail me, I believe that's a white woman standing next to him. OMFG!