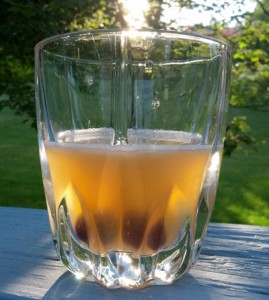 Since it's Father's Day, here's a word about the wisdom passed down from my old man. He wasn't into sports, so my siblings who were interested in athletics had to pick that up by themselves. And he didn't teach us how to fight or shoot guns or any of the other manly things that stereotypical fathers are supposed to teach their kids to make them into true men. For a son like me, who doesn't give a shit about any of that stuff, he taught me something far more important: how to make a good cocktail.
His first and greatest lesson of all, one for which I will be eternally grateful long after he passes from this vale of tears, is a simple one: fuck vodka. Gin is the king of liquors, and his nightly go-to cocktail is a Gimlet. He always used Gilbey's, and even after we would bring home Tanquery or Bombay or some other higher-end liquor, he'd drink it with us and then revert back to Gilbey's after we left.
The next lesson is that sweet cocktails are bullshit. Here's his recipe for a Gin Rickey: two parts gin, one part fresh-squeezed lime juice served over ice with enough club soda to fill a highball glass. Every "Rickey" I've seen in craft cocktail bars is full of simple syrup. If you really want a Tom Collins, order a goddam Tom Collins. Gin Rickeys don't have sugar.
Finally, he taught us that the ritual of making a good cocktail is part of the fun. When he wanted a whiskey sour, which was mainly in the summer, he'd get out his whiskey sour glasses, lemons and shaker. His recipe is a scant teaspoon of sugar, juice of half a lemon, and two shots of Jim Beam, shaken vigorously, garnished with a maraschino cherry. It's a long way from that to the Evan Williams and Squirt that you get in an average bar, and thanks to my old man, I know the difference.