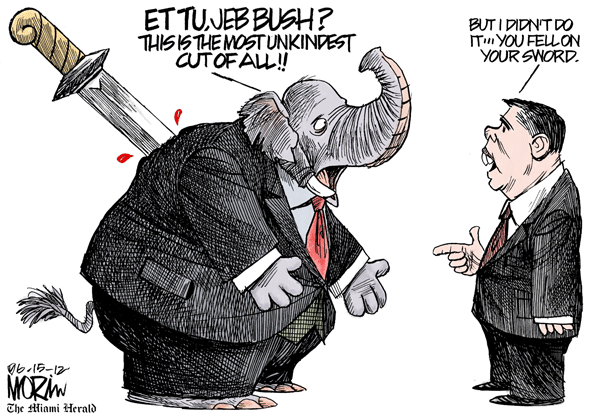 (Jim Morin via GoComics.com)
__
Never turn your back on a member of the Bush crime syndicate. John Ellis "I Got Ma's Woodchuck Genes While That Lucky Sumbitch Dubya Got Pater's Sewer Rat DNA" Bush is busily undermining his way beneath the garden fence of the media's good graces, and loyal family retainer Michael "Wormtongue" Gerson is still working the streetcorner for him:
Jeb Bush's recent field trip to Washington was not pleasant, but it was clarifying — a civics lesson in democracy's darker side.

On June 1, Bush testified before the House Budget Committee on the topic of entitlement reform. First came an ambush by Rep. Debbie Wasserman Schultz — also head of the Democratic National Committee — who delivered a partisan tirade on an obscure spending item that Bush had supported as Florida's governor. Then Bush ventured to criticize anti-tax pledges, which "outsource your principles and convictions" — comments that Grover Norquist, president of the advocacy group Americans for Tax Reform, immediately attacked as "ignorant" and "embarrassing."

It was Washington in miniature: a momentous topic treated with the dignity and seriousness of cage boxing. Bush recalls the hearing as a "circus" and "laughable." "It was not a discussion," he told me, "but long questions that were really statements." Bush, who has been reading Robert A. Caro's biography of Lyndon Johnson, "The Passage of Power," was struck by the historical contrast. "You might not always like where he came out, but Johnson used power to solve problems." …
The existence of zombies is hereby disproved, because Zombie Lyndon Johnson did not rise screaming from his catafalque and kick both Gerson's and Jeb's flabby dishonest arses.
We are never going to be rid of this gang of thugs and criminals. For all Jeb pretends to Charlie Rose he 'regrets' that he won't be Romney's VP — second banana to a failed candidate is no place for a Bush, Poppy told him — Jonathan Chait is not the only observer who thinks Jeb is positioning himself for 2016:

… To understand what Bush is saying, you need to anticipate how the party might diagnose the causes of a loss in 2012, and then you can see how he is setting himself as the cure. Bush has been publicly urging Republicans to moderate their tone toward Latinos and to embrace immigration reform…

Other than that, Bush has largely followed the example of his brother's 2000 campaign, offering a great deal of moderation in tone and very little in substance. [Last week] he spoke fulsomely on the merits of bipartisanship without committing himself to support a generalized move toward the center on anything other than immigration. In customary party fashion, he lashed President Obama for failing to fully endorse the Simpson-Bowles deficit-reduction plan, but subsequently admitted he would have opposed it as well due to its higher tax revenues.

If you try to imagine the Republican consensus after a potential losing election, it will look like this. It will recognize that its harsh partisan rhetoric turned off voters, and will urgently want to woo Latinos, while holding on to as much as possible of the party's domestic policy agenda. And oh, by the way, the party will be casting about for somebody to lead it.
The narrative I'd heard was that JEB! got sidelined in 1998 because "the smarter brother" couldn't resist keeping records of some of his helpful advice to Miami's Batistas-in-exile developers/sugar barons on destroying the Everglades and plundering the state treasury. (Dubya, the lazy putz, never made any detectable effort to justify the money Daddy's rich friends funnelled his way in any of his various sinecures — and if he had, it wouldn't have been worth writing down.) Apparently, Citizens United and the Walker non-recall have taken the stench off pandering to the local robber barons' every whim, semi-licit or otherwise. And if Fidel would just hurry up and die, only progressive DFH bullys will be using hurtful terms like banana republic or bagman by, say, 2014. Ever since Prescott Bush got away with smuggling gold for the Nazis (it wasn't at all political, he just did it for the money), the Bush dynasty has relied upon the American voters' short memories and the One Percenters' loyalty to "proven producers".