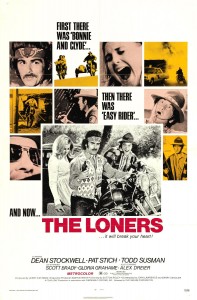 I'm sure you've spent hours wondering whether movie posters have become more blue. Wonder no more-here's an analysis of the color of movie posters since 1914, and yes, they're more blue.
This poster (click to embiggen, it's worth it) is from the early 70's B-movie The Loners, headlined by Dean Stockwell on his way up and Gloria Grahame on her way down. I saw it hanging on the wall at a restaurant the other day. It typifies the kind of movie I remember going to see at the drive-in when I was a kid. Stockwell plays "Stein, a half-blood Indian". Let that soak in for a minute.
In addition to the facial expressions on the poster, which are priceless, you can tell that a producer is pinching every penny when he decides that a full color poster is too expensive and instead goes for two cheesy spot colors overprinted on black and white. That's a technique that you don't see much anymore.
In case you can't tell, I'm tired of politics.