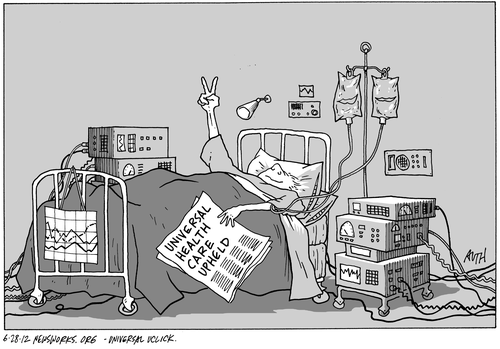 (Tony Auth via GoComics.com)
__
People misunderstand the Eeyore philosophy — what the classicists call Cynicism has been degraded into a cheap wiseguy excuse for inertia. But when you understand the Way of the Donkey, you know that of course the house always wins, that rust never sleeps, and that Coyote is always hungry. The joy of life is to understand all this and still celebrate the joys (however fleeting) of the wins (however compromised). To quote Mr. Pierce, and President Obama:
To hang your fortune on chance.

The president finally has found the six-word answer on why health-care reform — any health-care reform — couldn't wait until the second term, or on a jobs package, or on a Wall Street bailout, or something else that tickled Rahm Emanuel in his funny places. People were getting sick because they couldn't afford to stay well. People were dying because they couldn't afford to get well. This is a moral imperative with which every industrialized nation on the planet, except this one, had grappled successfully. And today, in reaction to the Supreme Court's decision largely upholding his own admittedly flawed attempt to come to grips with it, the president was more eloquent, and more convincing, than he's been at any point during the prolonged — and occasionally ridiculous — fight over the law itself. He talked about all those American citizens who had to worry "not just about the cost of getting sick, but the cost of getting well." Those people, he said, shouldn't be forced to "hang their fortunes on chance."…

The popular opinion among the pundits is that the president should now walk softly on this issue, or that the issue will fade as the campaign rolls on. I think that would be as big a mistake as his pulling back in the face of the manufactured outrage of 2010 was. The president should talk about this every day….He got a win today. So did the people who no longer have to hang their fortunes on chance. To hell with repeal-and-replace. The president should run on maintain-and-improve. His defenders back when the law passed kept saying that the ACA was worth passing because it was the first step toward the progressive goal of universal coverage. If he really meant what he said today, that should be the president's position now and forever…
Although, if I'm being totally honest, I was betting Doghouse Riley's line:
Did you feel this coming? I thought I did, but only a fool predicts Court decisions, even in this benighted 5-4 age. It's a political decision, and the political winds just shifted alee. Roberts' "tax-based" decision sounds for all the world like the sort of thing that happens whenever any Grand High Poobah decides to get tricky. It's overwrought and stupid, and transparently does what it was really designed to do, except for the fooling people part. I guess we can't ask for more, except the massive stroke that Scalia has deserved for years now.
(Guess I better be careful, or I'll be infringing on DougJ's Moore Award turf.)
What other fleeting, incomplete, flawed wins are up for celebration on this evening's agenda?