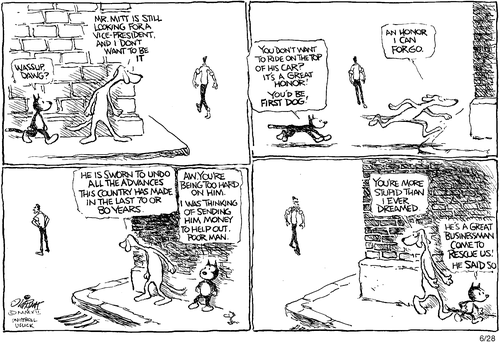 (Pat Oliphant via GoComics.com)
__
According to Liz Colville at Wonkette, looks like Willard has gone full Palin:
… While in Virginia on Friday, Romney said that while America may be "the land of opportunity for every single person," when it comes down to it there is not quiiiiiiite enough opportunity to go around, and education is great, but a person should really only get "as much education as they can afford and with their time they're able to get," which is a weird, as well as an evil, sentence.

Via Think Progress, here's the extent of Romney's remarks. There was a video, but it doesn't appear to be working…

I think this is a land of opportunity for every single person, every single citizen of this great nation. And I want to make sure that we keep America a place of opportunity, where everyone has a fair shot. They get as much education as they can afford and with their time they're able to get and if they have a willingness to work hard and the right values, they ought to be able to provide for their family and have a shot of realizing their dreams.
Education — it just makes the rubes your kids all snotty and know-it-all, and the next thing you know they want to leave Real Heartland America(tm) and maybe even vote Democrat!
H-E-double-hockey-sticks, in pursuit of his fancy-schmancy MBA degree, Our Mitt left the Pleasant Pennisula* for Stanford, France, and Harvard. As a result, he was reduced to running for governor of Taxachusetts rather than Deseret, and look what that got him — snotty New York Times writers being all "snarky" about "Romneycare":

Congratulations to Mitt Romney! His signature contribution to American life, devising a health plan that became a model for the only major Western democracy without medical care for nearly all of its citizens, has been upheld. If Romney accomplishes nothing else in life, he will go down in history as the man who first proved, in the laboratory of Massachusetts, where he once governed, that an individual mandate could work.

Jeers to Mitt Romney! As the presumptive Republican nominee for president, he stood in front of the Capitol just after the Supreme Court ruling on Thursday and promised to fight in the coming campaign against one big idea — his own.

Now Romney has no choice but to run against himself. It was Rick Santorum who put it in blunt political terms during the Republican primary. Romney, he said, "is the worst Republican in the country to put up against Barack Obama" because he is the intellectual godfather of the most consequential act of the Obama presidency….

To please a Republican Party that waves its gnarled fists at progress, Romney promises, crosses his heart and swears on his mother's grave that he will repeal Obamacare on Day 1 of his presidency.

Except that, hedge, hedge, he wants the law's most popular features — preventing insurance companies from dumping people who get sick or denying care to those with pre-existing conditions — to remain on the books.

All of this just reinforces Romney's worst character flaw — the weasel factor…
*Michigan state motto: If you seek a pleasant pennisula, look around you. Many native Michiganders swear the part that not's on the official shield continues: … and then move to Florida, cuz this ain't it.
***********
Apart from Willard's ongoing issue with 'the tribute Vice pays to Virtue', what's on the agenda for this steamy summer weekend?